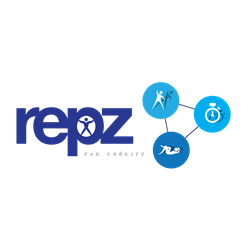 "Repz is a movement that makes fitness and charitable giving accessible to everyone regardless of their fitness and income levels. It is an app that enables to users to feel good by doing good for themselves and others" Elisa Klein, Founder
Miami, Florida (PRWEB) September 21, 2015
Repz for Charity is a free fitness app that allows users of all fitness levels to complete fun challenges to generate charitable donations for charities and nonprofit organizations. The app allows users to record and share their fitness feats while making every challenge count toward charity. For every challenge completed in the app, charitable donations are made by Repz advertising sponsors.
Users can select from three challenge categories. The challenges include:
Spin Challenge: users are given 15 seconds to complete an exercise generated from a combination of basic fitness routines.
Ultimate Challenge: users are given 30-50 seconds to complete advanced challenges that require additional strength and stamina.
Featured Challenge: users are able to select from a variety of challenges which include fun partner challenges, youth challenges, group challenges and even pet challenges.
After each completed challenge, users have the option to upload their challenges and challenge their friends via social media platforms such as Facebook, Twitter and Instagram.
About Repz for Charity:
Repz for Charity is the first mobile app developed by the non-profit company Repz for Charity, Inc.
Follow Repz for Charity on Facebook, Twitter and Instagram and on the web http://www.repzforcharity.org.