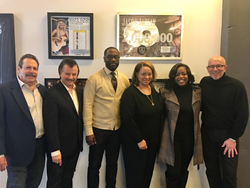 "I am thrilled and honored to work alongside respected industry veterans, forging the opportunity for my label to offer the very best distribution to our label artists," says Q Parker
New York, NY (PRWEB) March 24, 2017
This week, RED Distribution President and General Manager, Bob Morelli, alongside Senior Vice-President of Product Development, Alan Becker, and Chief Executive Officer of Brody Distribution Group, Jeff Brody, announced the official label distribution deal with NeWFAM Entertainment in Manhattan with the label Chief Executive Officer Quinnes 'Q' Parker of the Grammy Award-Winning Music Group 112, Senior Executives and Label Partners Dora Din and Tara Griggs-Magee.
"I am very pleased to reconnect with Tara Griggs-Magee & the great label, NeWFAM Entertainment. The artists and their music are terrific and they fit in wonderfully with RED's artist roster and overall approach to marketing & sales. Tara will continue to bring great music to RED and RED will be proactive in supporting her artists and their vision" says Bob Morelli
RED Distribution, a division of Sony Music LLC will be responsible for the physical and digital sales and distribution for NeWFAM Entertainment in the U.S. and Canada. Additionally, Brody will be NeWFAM's eyes and ears in the marketplace, positioning the label to be competitive and successful in today's exciting and ever-changing music industry.
"I am thrilled and honored to work alongside respected industry veterans, forging the opportunity for my label to offer the very best distribution to our label artists," says Parker. He adds, "RED offers a diverse and structured infrastructure I found to be most appealing with NeWFAM. I am happy to officially be in the position to call BDG/RED Distribution, NeWFAM's North American distribution partner."
The label's first release under the new partnership, slated for Summer 2017, is Will & Alexis, a re-emergence of the duo performance concept. Loosely compared to the storied Bebe and Cece Winans, Will & Alexis will lend a sonic breath of fresh air to music lovers seeking inspiration worldwide. From hard-hitting dance tracks and bass-filled toe-tapping grooves, to intimate and unforgettable worship staples, the combination of their voices and delivery offers a gumbo of urban inspiration, full with sound and energy that not only pleases ears, but fires up souls.
About NeWFAM Entertainment | Q Parker:
Industry veteran and Grammy Award Winning, Multi-Platinum, singer/songwriter Q Parker of 112 launched the inspirational independent label NeWFAM Entertainment in 2007. Headquartered in Atlanta, Georgia, NeWFAM Entertainment is a full service entertainment company dedicated to artist development, music production, label services, management and consulting. NeWFAM's mission is to develop artists and equip them with the knowledge and tools needed to be able to compete and have a fair shot at fulfilling and accomplishing their dreams of being in the recording industry. The company is distributed through BDG/RED Distribution, a Sony Music LLC. NeWFAM Entertainment is a wholly owned subsidiary of NeWFAM Music.
Prior to launching NeWFAM Entertainment and since entering the music industry in 1996, Q Parker whose roots are COGIC has garnered many accolades including a Grammy Award, an MTV Video Music Award, two multi-platinum albums, one platinum album and two gold albums. He was also voted one of Jezebel Magazine's "50 Most Sexy Atlantans" and Essence.com named him as one of their favorite male "Eye Candy" picks for two year in a row. A winner of 6 ASCAP awards, Q is an accomplished songwriter that has worked with a variety of chart-topping talent including Keyshia Cole, Pink, Faith Evans, P. Diddy, Mase, Notorious B.I.G., Mario Winans, New Edition, Kelly Price, Tyrese, Algebra Blessett and more. To learn more, please visit http://www.NeWFAMEntertainment.com