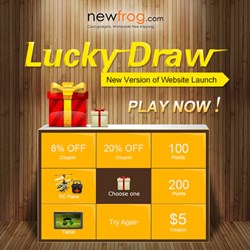 NewFrog also provides Wholesale and Dropshipping services.
(PRWEB) September 21, 2013
Newfrog new version was released on 17.09.2013. As an electronics supplier, they are dedicated to offering more convenient and pleasant shopping experience for their customers. The key points of this new version are about the optimization of contents and pages structures, including homepage and product pages which will make whole site more abundant, novel and fashionable.
The new version of newfrog.com will feature in 5 aspects below:
1. More beautiful and concise website interface.
Design of the upgraded new version website interface looks more comfortable. The website adds some new modules like "share orders" and "special offers" which would help the buyers easily get they wants at the lowest price and saving much more time.
2. More abundant product categories.
Besides the big changes to the layout, in the new version, they extended their product categories, from 9 categories to 11 categories, and subdivided kitchen supplies and bathroom-ware to fulfill the buyers' growing needs. And they have built the most popular categories like smartphones and China android tablet PC which would be featured in the near future.
3. Strengthen interaction and shorten the distances between the users.
From the commodity consult, logistics to the after-sale services, the operation is easier.
4. More brand products entering to their store, meeting different customers' needs.
5. The new version has also added some assistant functions, like commodity filter function which will be faster to help customers find what they really love, and a new "wish" button makes customers collect what they love. These functions will make customers choices more convenient and easier.
Three kinds of big promotions for celebrating the new version of Newfrog released:
1. 50% off for the whole site. View more here http://www.newfrog.com/banner/New-Start/
2. Members Sweepstakes, every member have 2 free chances everyday, and every order after 01.07.2013 will gain additional 5 chances for all the old members. The Winning rate is up to 40%. RC helicopters and tablet PCs are waiting for you. Click here to know the details: http://www.newfrog.com/banner/Lucky-Draw/
3. Weekly deals promotion, 15 products every week up to 70% off. Look at the Details: http://www.newfrog.com/banner/Weekly-Deals/
Newfrog teams are trying their best to perfect the functions of their shop, this is the first step, but also is an important step.
This new version of Newfrog marks that they are preparing to become a leading B2C supplier, after this event, they will put forward more and more promotions in succession, please pay more attention to Newfrog.com.