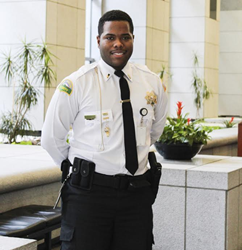 "To honor his service, New Horizon Security has donated $500.00 to the Fan Free Clinic, a great cause that we should all be proud to rally around."
Manassas, VA (PRWEB) June 05, 2015
New Horizon Security Services, Inc., a privately-owned security services firm headquartered in Manassas, VA, specializing in armed and unarmed security officers in the Mid-Atlantic region, has donated to the Fan Free Clinic in Richmond to honor an employee with exemplar service.
Going above and beyond to serve the client is nothing new for Lieutenant Darius Pryor, whose passion for service has led to success in his security career.
Darius volunteers at the Fan Free Clinic, a nonprofit clinic providing compassionate, high quality medical care to nearly 2,000 lower-income, uninsured patients; comprehensive support services for more than 600 people living with HIV, and life-saving health education and outreach to thousands of people throughout the Greater Richmond and Central Virginia.
"I'm proud that Darius is part of our team, and commend his commitment to community service," said John "J.J." Frazer, President and CEO of New Horizon Security, "To honor his service, New Horizon Security has donated $500.00 to the Fan Free Clinic, a great cause that we should all be proud to rally around."
To join Darius and the New Horizon Security team, apply online at newhorizonsecurity.com/careers.
Learn more about the Fan Free Clinic and how you can support at http://www.fanfreeclinic.org/.
About New Horizon Security Services, Inc.
New Horizon Security specializes in providing high-quality armed and unarmed security officers throughout the Mid-Atlantic region in support of local and state government agencies, private businesses, commercial and retail properties, construction sites, residential communities, education facilities, and public service buildings. New Horizon Security also operates a certified training academy to train unarmed and armed security officers for the field. This training academy is open to the public as well. New Horizon Security is headquartered in Manassas, VA with satellite branches in Richmond, Tidewater, Newport News, Roanoke, and Danville, VA. Learn more at newhorizonsecurity.com.