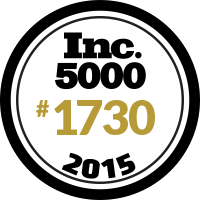 Our success is a testament to the dedication and professionalism of our team, and shows we are doing it right.
Manassas, VA (PRWEB) September 29, 2015
New Horizon Security Services, Inc., a privately owned security firm headquartered in Manassas, VA and specializing in armed and unarmed security services, has been named to Inc. Magazine's exclusive Top 500|5000 list of the nation's fastest-growing private companies.
Inc.'s 500 l 5000 list represents the most comprehensive look at the most important segment of the economy—America's independent entrepreneurs. 2015 marks the fifth straight year that New Horizon Security has been recognized—propelled by its three-year growth of 233 percent, which earned the rank of No. 1730--a feat only small percentage of the companies on the list have done.
"Not many companies have the stamina to be listed five times in a row," said John "J.J." Frazer, President of New Horizon Security, "Our success is a testament to the dedication and professionalism of our team, and shows we are doing it right."
Virginia was the fifth fastest growing state on the list, and the Washington DC metro area came in second among the fastest growing metro areas, according to Inc. The security industry grew 127 percent in 2014.
"The story of this year's Inc. 5000 is the story of great leadership. In an incredibly competitive business landscape, it takes something extraordinary to take your company to the top," says Inc. President and Editor-In-Chief Eric Schurenberg. "You have to remember that the average company on the Inc. 5000 grew nearly six-fold since 2012. Business owners don't achieve that kind of success by accident."
New Horizon Security's revenue grew to $19.7 million following the addition of several new government clients, such as Arlington County and the VA Department of Military Affairs, residential communities, such as Heritage Hunt Golf & Country Club; and major special events, such as the Quicken Loans National PGA Tournament.
"I am very proud of what we have accomplished," continued Frazer, "Our growth is the result of a constant focus on hiring the best, delivering exceptional service, investing in technology and training, and forging strong customer relationships, which enable us to deliver greater value to our customers."
The Inc. 5000's aggregate revenue is $205 billion, generating 647,000 jobs over the past three years. The average company on the list achieved a mind-boggling three-year growth of 490%. Complete results of the Inc. 5000 can be found at http://www.inc.com/inc5000.
New Horizon Security's profile can be viewed here: http://www.inc.com/profile/new-horizon-security-services.