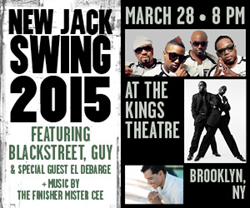 We're excited to produce this show in Brooklyn's amazingly restored Kings Theatre... New Jack Swing 2015 brings back the classic sound from the bands that started it all.
New York, NY (PRWEB) February 26, 2015
Marquee Concerts announces its first concert at Brooklyn's all-new Kings Theatre. The New Jack Swing 2015 line up includes Blackstreet featuring Teddy Riley and Dave Hollister, Guy, special guest El DeBarge, plus music by The Finisher Mister Cee on Saturday March 28, 2015 at 8pm. The restored Kings Theatre re-opened its doors in February 2015 after undergoing a $93.9 million redevelopment project to revive the historic structure's original splendor. Built in 1929 as one of five Loew's Wonder Theatres in New York and New Jersey, the venue has been transformed into a state-of-the-art facility with over 3,000 seats, the largest of its kind in Brooklyn.
"We're excited to produce this show in Brooklyn's amazingly restored Kings Theatre," notes Bill Zafiros, co-founder of Marquee Concerts. "New Jack Swing 2015 brings back the classic sound from the bands that started it all."
After founding and achieving success with Guy, multi-instrumentalist and super-producer Teddy Riley concentrated on his production and songwriting career for several years before forming Blackstreet with vocalists Dave Hollister, Chauncey "Black" Hannibal, and Levi Little. Blackstreet's self-titled 1994 debut album found success with the singles "Booti Call" and "Before I Let You Go", both Top 40 hits, with the latter hitting the Top 10. The follow-up, 1996's Another Level, was a breakthrough success due to the top single "No Diggity" (with Dr. Dre), which was a #1 hit on the Billboard Hot 100 in November 1996, and won a Grammy Award for Best R&B Performance by a Duo or Group with Vocals. Teddy Riley and Dave Hollister return with Blackstreet for this show.
Influential R&B trio Guy was the first group to sport the new jack swing sound — traditional soul vocals melded to hip-hop beats — with credit for the genre's invention going to founder Teddy Riley. The group's first incarnation featured vocalists Aaron Hall and Timmy Gatling. Their self-titled debut album was a hit, with the R&B hits "I Like," "Groove Me," "Spend the Night," and "Teddy's Jam." In strong demand as a songwriter and producer, in 1988, Riley produced Bobby Brown's Don't Be Cruel, the album that helped new jack swing cross over into the pop mainstream. He has also worked with Kool Moe Dee, Michael Jackson (Dangerous), Stevie Wonder, Keith Sweat, Jane Child, and SWV, among others. In between albums, Guy contributed songs to the Do the Right Thing and New Jack City soundtracks. By 1989, the group faced turmoil; Riley's brother Brandon was killed and Guy split with their manager. 1990's The Future featured Hall's brother, Damion Hall in place of Gatling and spawned R&B hits in "Let's Chill," "Do Me Right," "D-O-G Me Out," and "Long Gone." Guy's Aaron and Damion Hall will appear at this Brooklyn event.
Lead singer of the R&B/Soul family group DeBarge from the early to mid-1980s, Eldra Patrick "El" DeBarge enjoyed success as a solo artist with numerous hits including "Who's Johnny," "You Wear It Well," "Love Always," "Where Is My Love," and "Starlight Express." His career has also been marked by notable collaborations with Tone Loc, Quincy Jones, Fourplay, and DJ Quik. While DeBarge continued to collaborate on other artists' projects, he released no albums between 1994 and 2009. In 2010, he emerged with the aptly titled Second Chance, released after a series of comeback shows including a well-received performance at 2010's BET Awards. The album yielded two singles, "Second Chance" and the Faith Evans duet "Lay With You", and garnered three Grammy Award nominations: Best Male R&B Vocal Performance, Best R&B Song, and Best R&B Album.
Well-known for his 21 years on air at New York radio station Hot 97 FM, DJ Mister Cee has been at New York City's Radio 103.9 since December 2014 spinning classic R&B and Hip Hop seven days a week for the "Coffee Break," "Throwback @ Noon" and "Weekend Boombox" mixes.
The Kings Theatre is located at 1027 Flatbush Avenue, between Tilden Avenue and Duryea Place in the Flatbush section of Brooklyn, New York. Tickets are on sale now for the Saturday, March 28, 2015 8pm show, priced from $55.50 to $125.50.
For tickets and information, visit MarqueeConcerts.com or Ticketmaster.com. To purchase tickets by phone, call 800-745-3000. Tickets are also available at the Kings Theatre Box Office and at all Ticketmaster outlets.
About Marquee Concerts
New York City based Marquee Concerts, one of the premier independent concert promoters in the Northeast, produces hundreds of events across all spectrums and genres. Marquee is constantly researching new music trends, recognizing today's up-and-coming entertainers, and expanding upon existing business relationships to put on the best shows possible and remain a competitive mainstay in the concert promoter's industry. Learn more at MarqueeConcerts.com.
###