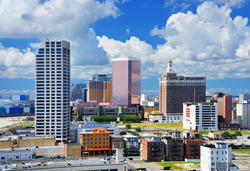 New Jersey HARP Refinance volume at a low while underwater homeowners wait on passing of HARP 3.0.
Jersey City, NJ (PRWEB) March 06, 2014
HARP Mortgage Lender (http://www.harpmortgagelender.com) reports underwater homeowners in New Jersey are facing the possibility of an increase in foreclosures if the Obama Administration's #MyRefi HARP 3.0 program is not rolled out within 2014.
Based on quarterly reports released by CoreLogic (a leading property information, analytics and services provider in the U.S.), the Home Affordable Refinance Program (HARP) has proven to be a huge success with continuous improvement in negative equity across the nation. The government endorsed refinance program was revamped in 2011 to expand its eligibility guidelines in hopes that it would reach out to more underwater homeowners, including borrowers with a LTV greater than 125 percent. This revision made an impact big enough to lead to an extension of the program from 2013 to December 31, 2015.
Click HERE for More Info on HARP 3.0
Despite the changes of HARP 2.0, there are still many underwater homeowners today that were turned away due to program guideline requirements. According to a recent Federal Housing Finance Agency (FHFA) report, New Jersey had 888 HARP Refinance loans completed for the month of December 2013. This volume in HARP loans may not be a large number for the state, but it did land them in number 9 of the top 10 HARP refinance states for the month of December.
We can only imagine what the volume would be if HARP 3.0 were available today given the fact that the newer version of the program's guidelines would be expanded even more; including homeowners who had private-market money mortgages that are in need of a refinance but do not qualify for other refinance programs in existence today.
New Jersey was also considered to be one of the top five states with the highest foreclosure filing for the month of January 2014 according to a most recent report released by Realtytrac (a leading online marketplace of foreclosure properties). The report states one in every 619 housing units filed for foreclosure. The number of properties that filed for a foreclosure in NJ was 44% higher than a month ago, and 66% higher than the previous year.
If the passing of the HARP 3.0 legislation is official, it may help New Jersey decrease the number of foreclosure properties. By enabling more underwater homeowners in New Jersey to refinance their current mortgages, it will assist in lowering the foreclosure ratings for NJ through delinquency prevention.
About the New Jersey Home Affordable Refinance Program
The NJ Home Affordable Refinance Program was established in March 2009 by the Obama Administration, and was later revised in 2011 due to the need of expanding its guidelines to meet program goals. The intended goal of the HARP program is to help severely underwater homeowners with LTV's greater than 125 percent by giving them the chance to refinance their current mortgage. Since inception, the HARP Refinance Program has helped a total of 3,057,958 homeowners refinance their mortgages, 397,791 of these borrowers were with LTV's greater than 125 percent.
HARP 2.0 Eligibility Guidelines:
1) Fannie Mae or Freddie Mac owns or has guaranteed the first loan.
2) Your current mortgage must have a note date of no later than May 31, 2009.
3) Borrower must be current with mortgage payments.
4) Borrower owes more than their home is worth, or there is minimal equity.
5) All mortgage payments have been prompt in the past 6 months.
6) No sixty (60) day late payments in the last 12 months.
Click HERE to check your HARP Eligibility Today!
HARP Mortgage Lender is a nationwide online network of home loan professionals and lending institutions that are authorized to deal in the Obama Administration's revamped versions of the Home Affordable Refinance Program (HARP 2.0 - 3.0). To learn more from a HARP specialist, call toll-free at 866-442-2184.