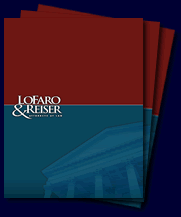 In today's online world, a lawyer's professional reputation is paramount. Lawyers must be mindful of ensuring compliance with professional ethics rules.
Hackensack, New Jersey (PRWEB) March 25, 2016
New Jersey lawyer Glenn Reiser, a former member and Chair of the Bergen County District IIB Ethics Committee, and current partner in the law firm of LoFaro & Reiser, LLP, is pleased to announce the establishment of ethics primers designed to teach newly admitted attorneys, sole practitioners, and small to mid-size law firms how to proactively avoid ethical violations.
From reviewing general business practices, records retention policies, trust accounting practices, Internet and social media advertising, and mass mailing advertising/solicitations, this area of LoFaro & Reiser's ethics practice is designed to help educate New Jersey lawyers on compliance with the New Jersey Rules of Professional Conduct.
A lawyer's license is his or her stock in trade. In today's world of online reviews and social media, a professional reputation can be destroyed in a single instance involving allegations of ethical misconduct. Having managed a law firm for the past 19 years, Mr. Reiser is well versed on law practice management and how to effectively operate a law firm in compliance with the New Jersey Rules of Professional Conduct, including Internet advertising and social media marketing.
Mr. Reiser will personally visit a client's office, engage in discussions with the managing partner, firm's lawyers and secretarial staff, and develop a plan to ensure that the client law firm has proper procedures in place to avoid ethics infractions altogether or to minimize their occurrence.
This ethics review program is suitable for New Jersey lawyers about to start a new practice, or managing partners of small to mid-size law firms in New Jersey who need guidance on particular ethics issues to ensure compliance with the New Jersey Rules of Professional Conduct. Contact the New Jersey law firm of LoFaro & Reiser, LLP and learn about how to effectively manage a law practice without risking one's professional reputation.
Mr. Reiser is also available for seminars and speaking engagements in the area of professional ethics for lawyers admitted to the New Jersey bar.
About LoFaro & Reiser, LLP
With offices located just minutes from New York City, LoFaro & Reiser, LLP serves businesses and individuals in a broad range of practice areas including bankruptcy & creditors' rights, business & corporate law, criminal law & DWI, debt collection & judgment enforcement, foreclosure & asset recovery, complex commercial litigation in state & federal courts, professional ethics, real estate, estates & trusts litigation, and probate disputes.