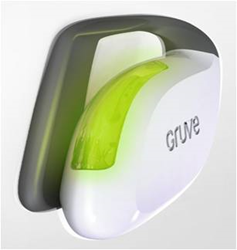 Science has proven that NEAT activity is the key to sustainable weight loss. And, our product has been certified by Mayo Clinic
Minneapolis, MN (PRWEB) March 28, 2014
Gruve Technologies, Inc. a leading provider of scientifically-proven health and weight loss products announces that New Leaf Wellness Centers will begin offering Gruve activity monitors to clients starting in March 2014. This supports Gruve Technologies core goal of educating people on the health benefits of accurately tracking their non-exercise activity, known as NEAT.
NEAT—certified by Mayo Clinic—is all the calories one burns will doing (non-exercise) daily activity. Scientific research over 10 years has found that increasing the NEAT in daily life burns more calories than short term intense exercise due to whole body movements and much long duration, and that it is the key for sustainable weight loss and a dramatic improvement in overall health.
New Leaf Wellness Center has four locations in Iowa, Minnesota, and Oklahoma. They specialize in health and well-being with an emphasis on balancing hormones to reduce physical symptoms and improving overall client health and weight management. Gruve will become part of the New Leaf Wellness Center weight management packages that are available for their clients. The centers will sell the Gruve for $119 with a 6-month subscription. The benefit to clients is that they will be able to try the Gruve through the New Leaf Wellness Center before purchasing one with a special discount code. In addition, the Gruve affiliate, Health in 12 diet planning guide and resources will be available to New Leaf clients.
"We are excited and delighted that New Leaf Wellness Centers has become an affiliate and will be offering Gruve to their customers," says Dr. Robert Gauthier, CEO, Gruve Technologies, Inc. "This is another opportunity to educate people on the health benefits of tracking NEAT. Science has proven that NEAT activity is the key to sustainable weight loss. And, our product has been certified by Mayo Clinic, making us unique in the activity monitoring market."
The Gruve Affiliate Program is an initiative designed for select health professionals and health educators, such as medical professionals specializing in fields like obesity, diabetes, and cardiology; registered dietitians; and health and wellness educators. Health professionals and health educators can incorporate the concept of NEAT and the Gruve as part of their health therapies and education programs to help their patients and clients.
About Gruve Technologies, Inc.
Gruve Technologies, Inc. provides scientifically validated weight loss and wellness products designed to provide a long-term sustainable path to better health. Headquartered in Minneapolis, MN, Gruve develops innovative technology and products based on cutting edge medical research that are proven effective to modify behavior and aid in weight loss. For more information, visit http://www.gruvetechnologies.com.