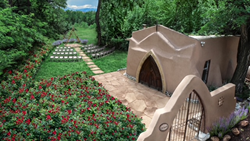 If you want the Santa Fe and northern New Mexico experience, this is it.
SANTA FE, N.M. (PRWEB) September 13, 2021
The Santa Cruz, a 4,500-square-foot old-world hacienda located in the Santa Cruz River Valley, was recently restored and is now open for bookings.
Rich with history and built in the early 1800s, the structure was originally the only stagecoach stop for travelers making the journey from Santa Fe to Taos along the El Camino Real. The on-site private chapel—a charming, mission-style sanctuary named El Sagrado—is 250 years old and was one of the first erected in the area.
"If you want the Santa Fe and northern New Mexico experience, this is it," says Amanda Tucker, who owns The Santa Cruz along with her husband, Rick Goldberg. "It's steeped in culture and history. Better than a hotel any day of the week." Amanda's interior design firm, Bohome Interiors, furnished The Santa Cruz with a nod to its background, including hand-carved furnishings, rough-hewn beams, Native American artifacts, rugs, vintage pieces, and colorful folk art.
The home, built with authentic adobe brick, boasts four large bedrooms, five and a half bathrooms, seven fireplaces, a sunroom, bar, and a library that includes a comfortable remote workstation complete with high-speed internet throughout the home. Situated behind a gated entrance, the three-acre grounds are equipped with a swimming pool, hot tub, creek, veranda, generous courtyard, and private chapel.
The Santa Cruz is ideal for micro weddings, where couples have a place to tie the knot and invite their loved ones to stay with them. The property is flush with huge cottonwood trees, ancient weeping willows, colorful flower gardens, and a pristine view of the Sangra de Cristo Mountains. The newly renovated chapel can host an intimate wedding for up to 40 guests, while the outdoor garden can host up to 150 guests. And for those planning larger weddings, there is plenty of space to erect a large tent on the grounds. The venue has a wide array of amenities, its own available staff, and parking for up to 50 cars.
Amanda and Rick have an inclusive approach to working with outside vendors. All wedding planners, event planners, and caterers of the bride and groom are welcome. "We want everyone to experience a weekend of quality time and memories with people you love and hold closest to you," says Amanda. "We did that for our wedding, and it was an unforgettable experience."
In addition to weddings, The Santa Cruz is fully equipped to host reunions, yoga retreats, bachelor and bachelorette parties, workshops, spa weekends, corporate events, and more. "We threw a music and fashion show during the SWAIA Native Art Market, and the event was perfect," says Juliana Brown Eyes. "Beautifully renovated rooms surrounding the courtyard with plenty of space and amenities, the fantastic pool and hot tub. All of it was perfect, and Rick and Amanda were very easy to work with and helped us plan and staff everything. The Santa Cruz is a truly unique venue for unforgettable events."
About The Santa Cruz
Owned by Amanda Tucker and Rick Goldberg, The Santa Cruz is one-third of the couple's growing hospitality business. The 4,500-square-foot home, located only 25 minutes north of Santa Fe, boasts a pool and hot tub, a pristine view of the Sangra de Cristo mountains, four large bedrooms, a hacienda-style courtyard, and private chapel. Situated on three lush acres, the home makes a wonderful venue for intimate weddings and a wide array of events. Rick and Amanda's hospitality business includes two other beautiful Santa Fe properties: Luna Vista in Tesuque and Our Canyon Home near Canyon Road.
About Bohome Interiors
Owned by Amanda Tucker, Bohome Interiors is an interior design firm specializing in creating story-rich atmospheres inspired by culture and history. "The discovery of unexplored places is exactly what pushes me to keep traveling, and, in turn, travel has pushed me to create. I am inspired by the colors, textures, sights and smells that accompany me on each adventure," says Amanda. Mesmerized by the rare, unique, and eclectic, Amanda seeks to turn each space—whether it be a primary residence, second home, or just one room—into a beautifully detailed sanctuary that transmits the owner's unique story.