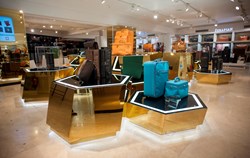 Over the last 90 years, Case has become synonymous with an enviable portfolio of premium brands in tandem with the delivery of a quality retail experience for the discerning traveller.
London (PRWEB UK) 23 September 2013
As of, Monday 2nd September, Creativity PR will be working closely with the Case team at head office in Hertfordshire to raise the profile of the company as the UK travel goods expert and CEO Stephen Spitz as an industry expert with 25 years experience.
Case is the main retailer of the luxury Tumi brand from the USA within an enviable portfolio of other premium luggage brands in selected stores, including Bric's, Burberry, Mulberry, Paul Smith, Victorinox, Samsonite and Lulu Guinness.
This year is the 90th anniversary of the company, which started in 1923 as 'Revelation' at 170 Piccadilly (now a Tumi store run by Case) and has grown into the UK's largest and most successful retailer of premium travel goods - luggage, business cases, leather goods & accessories.
Case also operates the largest and most prestigious luggage department in the world within Harrods in Knightsbridge. This is due to be re-launched after a major re-fit in mid-September 2013 with an elegant new corporate design concept that incorporates interactive screens and imagery to ensure a memorable and truly exciting retail experience for customers.
Besides Harrods, the company operates concessions in a number of other prestigious UK department stores including Selfridges, Harvey Nichols & Hoopers. In addition, Case has airside stores in both terminals at Gatwick and will also be opening a new concession at Heathrow Terminal 2: The Queen's Terminal in June 2014 for the convenience of passengers.
Comments Case CEO Stephen Spitz: "Over the last 90 years, Case has become synonymous with an enviable portfolio of premium brands in tandem with the delivery of a quality retail experience for the discerning traveller. The time has come to share our vision of the industry by raising our own corporate profile. It's not just about brands; it's also about reputation management"