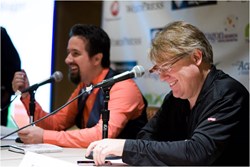 Las Vegas, NV (PRWEB) January 17, 2014
Not even record breaking temperatures scattered throughout the United States or snow storms - all causing flight delays and cancellations - could stop thousands of new media enthusiasts from traveling to Las Vegas, NV for the 8th annual New Media Expo just last week during the polar vortex.
January 4-6th, 2014 marked the return of the world's largest New Media Exposition, bringing together Bloggers, Podcasters, and Web TV experts and enthusiasts alike, representing the meld of online media under one roof in Vegas at the Rio Convention Center.
These platforms can exclusively serve as a new outlet for entertainment, while for others it is a way of life, and for many, their livelihood. The New Media Expo focuses on presenting information to its attendees to allow them to better entertain, persuade, and grow their online following and bottom line through these various new media channels.
Highlights of this year's show included an incredible keynote by Scott Stratten, founder of Unmarketing who gave attendees a copy of his new book, QR Codes Kill Kittens; keynote speaker Penn Jillette, world renown illusionist; and long awaited talks by influencers like Chris Brogan, Dino Dogan, and John Lee Dumas. All in all, attendees were exposed to over 175 thought leaders in the new media industry, taking home the most invaluable, cutting edge information to implement in their own businesses.
The event also boasted a large exhibitor hall, including sponsors like Wordpress, live Podcast Interviews with Podcast One, US Army, and SAG (Screen Actors Guild). NMX's 8th Annual People's Choice Podcast Awards took place on January 5th, awarding the best of online entertainment and informative podcasting shows.
Keynote Marshall Sylver delivered an entertaining hypnosis show on the event's opening night, hypnotizing volunteers from the audience to dance, sleep, and laugh until it hurt.
2014 also marked NMX's first year partnering with the International Academy of Web Television (IAWTV) Awards Show, bringing together nominees in 35 categories of Web Television to walk the red carpet at the Rio on the 7th, following the successful event.
NMX would like to thank all who attended, sponsors, speakers, press, partners and staff for making the 2014 New Media Expo an event to remember. To learn more about NMX and, be sure to visit http://nmxlive.com
About NMX
New Media Expo brings together Bloggers, Podcasters, and Web Television content creators and fans globally to educate and entertain the masses online through these tracks. Attendees gain knowledge to monetize, increase exposure, and access experts to drastically improve their own new media platform. NMX also hosts the Travel Bloggers Expo (TBEX), Small Business Summit, as well as on-site at New Media Expo: International Academy of Web Television (IAWTV), and the People's Choice Podcast Awards.
http://nmxlive.com/2014-lv/
http://www.youtube.com/user/blogworldexpo/videos
https://www.facebook.com/NewMediaExpo
https://twitter.com/nmx
Press interested in covering the 2015 New Media Expo please register here:
http://nmxlive.com/2014-lv/media-application
Press Contact:
Joanna Kinsman, PR Contact
Joanna Kinsman PR Contact PR (at) NMXevents (dot) com
NMX New Media Expo