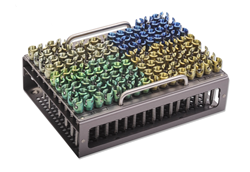 Minnetonka, MN (PRWEB) May 24, 2016
Vertebral Technologies, Inc. (VTI), a company focused on developing minimally invasive (MIS) modular solutions for painful spine conditions, announces the launch of the InterLink™, pedicle screw system.
The first InterLink™ product is a comprehensive Pedicle Fixation System designed to meet the needs of today's leading surgeons and facilities. The system is made in America and includes a full complement of 22 polyaxial pedicle screws, 19 spinal rods, cross-connectors, and set screws, and can be used for single or multiple level fixation.
"We are pleased to be able to offer not only our InterFuse modular implant devices, but also the supporting pedicle screw system to give surgeons everything they need in their spinal fusion surgeries. VTI is committed to giving surgeons superior spinal products and giving patients solutions for their chronic pain," comments Matt Kyle, President & CEO at VTI.
About Vertebral Technologies, Inc.
Vertebral Technologies, Inc. (VTI) is a privately held company based in Minnetonka, MN, USA. VTI is dedicated to the design, development, manufacturing and marketing of medical devices to address painful conditions of the spine through less-invasive surgical approaches. Founded in 2005, VTI's products utilize its unique modular-assembly technology to deliver solutions optimized for both surgeons and their patients. VTI has sold over 7,000 InterFuse modular interbody fusion devices worldwide to-date. InterLink™ is manufactured by Royal Oak Medical.
For more information visit, http://www.vti-spine.com or contact Brian Thron at marketing(at)vti-spine(dot)com or +1.952-912-5400