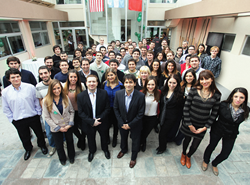 This new technology that we implemented and launched in the U.S. has taken security to a whole new level. This is being developed entirely right here from our location in Argentina from the beginning to the end.
Buenos Aires, Argentina (PRWEB) August 06, 2013
Within the framework of seeking the business promotion of Argentine software and IT service companies in the major markets around the globe, Making Sense opened a new office in the Playa Grande neighborhood of Alem.
The new company building has more than 10,000 square foot of office space, where professionals in the areas of Development, Design, Marketing, Administrative, Human Resources and Customer Support will be working. In addition to this, the office will have a great number of rooms that will be used as conference rooms, also a small internal patio area, lunch areas, and many other smaller spaces that will be used as multipurpose spaces offering the possibility of recreational activities so all Making Sense employees can use them when they have some free time.
During the opening of Making Sense's new office Cesar DOnofrio and Damian DOnofrio were joined by Mar del Plata's Mayor Gustavo Pulti together with Renato Rosello, sub-Secretary of Information and Telecommunications in the General Pueyrredon District, and also Raul Lamacchia, President at Mar del Plata's Union of Commerce, Industry and Production (UCIP).
Other distinguished guests that were present were Vanessa Luchessi, Executive Director at the Argentina's Software and IT Services Chamber of Commerce(CESSI), Diego Beardo, Vice President at the Chamber and Alejandro Ortiz, president at Mar del Plata's Technological Association of Information and Communication (ATICMA).
Gustavo Pulti, Mar del Plata's Mayor commented, "I am certain that in a few years, Mar del Plata will become the capital of Software Development here in Argentina. The city of Mar del Plata is opening the door to the IT industry and is looking forward to the opening of the first technology park in the city."
Making Sense's CEO Cesar DOnofrio also made some references to the beginnings of the company and stated that he is proud to see how "Making Sense is currently offering Nearshore same time zone service from Argentina combined with an onsite customer relationship and project management teams generating a new and refreshing option for clients that historically only used offshoring development work in India and other parts of Asia." Cesar also mentioned the development of a software product that is being used by the Texas state police and also being pitched to different police agencies in the United States, developed entirely in the city of Mar del Plata. "This new technology that we implemented and launched in the United States has taken security to a whole new level. We helped COPsync, operator of the United States' largest law enforcement real-time, information sharing, communication and data interoperability network, to develop Industry's First Fully-Integrated High-Definition Software Driven Video System for Law Enforcement Patrol Cars. This is being developed entirely right here from our location in Mar del Plata from the beginning to the end."
About Making Sense
Making Sense is an IT company specializing in the development and implementation of software and web applications for different companies since 2002. It has over 120 employees who work in different offices located in United States, Argentina and Mexico.
The company specializes in offering the latest software development strategies, and has several partners throughout the world. Some of its most prominent clients include Rackspace, DELL and AMD . One of Making Sense's most well-known products include Doppler™, the most widely used email marketing tool in Latin America, which allows users to create, send, analyze and optimize the user's email marketing campaigns very simply, fast and effective; and Lander™, a software tool that enables the creation of landing pages in minutes.
In recognition for its work in fostering Argentina IT outsourcing to the U.S., Making Sense received in December 2012 a special mention at the Polo IT Buenos Aires event. Making Sense is fully committed to renewing its essence of offering high quality services and maintaining its unique spirit of passion and dedication that it brings to the pursuit of technical excellence.
Contact:
Making Sense LLC
Robert Matthews
Business Development
210-807-3552
rmatthews(at)makingsense(dot)com