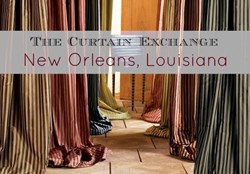 It's a huge party that takes over the city and everyone has such a great time.
New Orleans, LA (PRWEB) October 03, 2013
New Orleans designer curtain showroom The Curtain Exchange will open its doors during Art for Art's Sake, the annual city-wide event celebrating the kick off to the New Orleans art season that is taking place on October 5 this year. The Curtain Exchange of New Orleans is located on Magazine Street, which is one of the main locations of the event, and will offer refreshments like wine and homemade cookies during the evening.
"We love participating in events like this one," says owner of The Curtain Exchange of New Orleans Elaine Cullen. "It's a huge party that takes over the city and everyone has such a great time. There is just such a wonderful energy that spreads everywhere."
Art for Art's Sake is the annual event founded by the Contemporary Arts Center that marks the opening of many galleries throughout New Orleans. The event takes place mainly on Julia Street, on Magazine Street and in the Warehouse Arts District, but will be celebrated in galleries all over the city. The event will feature street music, a block party on Julia Street, cash bars and a reception at the Contemporary Arts Center. Participating galleries and stores will be open from 6-9 p.m. The reception will also open at 6 p.m., and is free to Contemporary Arts Center and New Orleans Museum of Art members. Attendance is $8 for non-members. More information about this even can be found at http://www.neworleansonline.com.
The Curtain Exchange offers custom luxury curtains and designer drapery and window treatments in New Orleans, Louisiana. In addition to a constantly updated line of fabrics that may be selected from to create custom draperies, The Curtain Exchange also carries a distinctive selection of ready-to-buy curtain styles and offers drapery hardware and installation. The store's in-house consultants are happy to work with guests in-store or at home, and customers are encouraged to take advantage of The Curtain Exchange's 48-hour take home approval process. All of The Curtain Exchange's draperies are made in the USA. For more information or to schedule an in-home consultation, please visit thecurtainexchange.com.