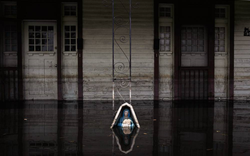 "All those people trapped in their attics drowned at the same time. When that much energy leaves the world at once, there is an indelible mark left behind that sensitive, empathic people still feel."
New Orleans, LA (PRWEB) August 20, 2015
"Since Katrina, New Orleans is a city of ghosts gone wild," says Cari Roy, New Orleans Top Psychic Medium.
New Orleans is hailed America's Most Haunted City. Over the centuries there have been fires, plagues, and wars which have created fertile ground for widespread hauntings and a legion of lost souls, says Roy.
On August 29th 2005, New Orleans was struck by the country's deadliest disaster: Hurricane Katrina
"Katrina had a massive impact on the living, but it also affected the dead," Roy says. "We've always been a mecca for paranormal enthusiasts, but the spirits of Katrina have amplified the city's legendary mystique and shined a spotlight on our ghostly reputation."
Many people returning to New Orleans after Katrina experienced Post-Traumatic Stress Disorder. But, Roy points out that it affected the dead as well. Combined with the 1,833 who perished in the storm, "we have a host of restless spirits to walk with us in our efforts to rebuild the city."
Roy recounts some memorable moments after the storm.
"I remember walking in the French Quarter for the first time since Katrina and I felt a punch to the stomach by a spirit roaming and seeking answers to the injustice it felt."
Standing at the site of the levee breech in the Lower 9th Ward, she was overwhelmed by the sadness of the souls lost there.
"I'm a professional in these matters, but the memory of these spirits still send chills down my spine," she says. "All those people trapped in their attics drowned at the same time. When that much energy leaves the world at once, there is an indelible mark left behind that sensitive, empathic people still feel."
Ten years later, tour guides fill the streets telling tales of our haunted history. Many visitors are paranormal enthusiasts who come specifically to meet our dead.
"Like the living, our spirits enjoy New Orleans. They ride street cars, dance the night away and some may even be rooting for another super bowl win." Roy knows when you see our cemeteries and witness our funeral parades it's evident we have great respect for our dead. "We consider our spirits of Katrina our neighbors and fellow citizens. They linger and inspire us to grow great in their honor."
New Orleans Psychic Medium Cari Roy hopes that all visitors get to connect with the city's other worldly inhabitants and get to "experience a ghost story of their own to take home".
New Orleans Psychic Medium Cari Roy has been featured on The Today Show, A&E Network, Fox News and The Discovery and The Travel Channels.
Rated #1 Psychic and Medium to see in New Orleans by travelchannel.com
Recommended Best Psychic and Medium to see in the USA by bbcamerica.com
For more information visit http://www.neworleanspsychic.com