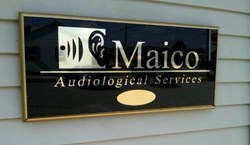 Newport News, VA (PRWEB) October 30, 2013
It can be hard to find quality information about hearing loss and hearing aids in Newport News VA. It's very common to be bombarded with promotional flyers and advertisements for hearing aids; especially if you are over age 65. Maico Audiological Services felt there was a need to offer better, unbiased information to people suffering with hearing loss. In response, they create a brand new website featuring educational content on hearing loss, hearing aids, tinnitus and assistive listening devices. The new website is 100% educational. It was designed to include answers to all the questions that Newport News VA audiologists are routinely asked. It also has a blog section where the Maico Audiological Services audiologists can post updates on hearing loss research breakthroughs, technological advances in hearing aids and other industry news. The blog is also where they will post local events where Newport News residents can come meet the audiologists and ask questions.
The Hearing Info section contains information about the many causes of hearing loss and the causes and treatment options for tinnitus.
The Hearing Aids and Accessories section explains the different types of hearing aids, including digital hearing aids, and explains what happens during a hearing test. This section also has descriptions of many accessories ranging from batteries to cleaning supplies.
In addition to these educational sections, the website also features former patient reviews for Maico Audiological Services and contact information and maps for all three Virginia locations.
Dr. Mavis Garrett and the entire team at Maico Audiological Services are very excited about the launch of the new website and the role it can play in providing high-quality hearing care information to Newport News Virginia residents. They invite suggestions and comments for improving the website to make it the best resource possible.
About Dr. Mavis Garrett
Dr. Mavis W. Garrett received her Bachelor's and Master's Degree from the University of Virginia in 1980 and 1982, respectively. In 2003, she earned her Doctorate in Audiology (AuD) from AT Still University in Arizona.
Dr. Mavis Garrett holds licenses in both Hearing Aid Dispensing and Audiology from the Commonwealth of Virginia and is a fellow with the American Academy of Audiology. Dr. Garrett is a member of the American Speech Language and Hearing Association and holds the Certificate of Clinical Competence in Audiology (CCC-A). Dr. Garrett eagerly seeks continuing education to remain current on the latest advances in hearing loss prevention, diagnostics and treatment.
About Maico Audiological Services
Maico Audiological Services is committed to improving the quality of life for all people with hearing loss. For more than 20 years Maico Audiological Services has provided professional audiology care to the residents of Newport News, Chesapeake and Smithfield VA. Maico Audiological Services is pleased to offer a full range of diagnostic and preventive hearing healthcare services including hearing aid screenings, hearing evaluations, rehabilitative counseling and preventative care. Maico Audiological Services prides itself on developing long-term relationships with patients and providing unparalleled personal service that begins the first time a patient walk through the doors and continues long after the initial appointment.
Contact:
Dr. Mavis Garrett
http://maicoaudio.com
Maico Audiological Services
703 Thimble Shoals Blvd., Suite C-3
Newport News, VA 23606
(757) 847-5444
Maico Audiological Services
1021 Eden Way North Ste 110
Chesapeake, VA 23320
(757) 383-8787
Maico Audiological Services
1702B S Church Street
Smithfield, VA 23430
(757) 356-5069