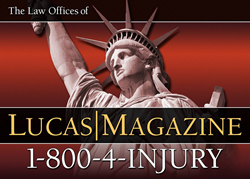 (PRWEB) April 09, 2015
The Law Offices of Lucas | Magazine (A New Port Richey Injury Law Firm) is this year's proud sponsor for a large charity event for the benefit of the Joshua House Foundation to be held on April 11 to 14, 2015 at the Lane Glo Bowl in New Port Richey, FL.
Since its establishment in February 2000, The Law Offices of Lucas | Magazine has seen considerable growth, thanks to their dedication in addressing the needs of their clients combined with their commitment to following the basic principles of hard work. Composed of a team of high caliber attorneys, The Law Offices of Lucas | Magazine proves yet again their genuine passion for helping others through their upcoming sponsored charity event.
The Lucas|Magazine Charity Challenge is set to become a relaxed social event that is bound to provide fun and excitement to its participants while helping in the raising of funds that will be given to the Friends of Joshua House Foundation.
Joshua House serves as a safe haven for neglected, abandoned and abused children aged 7 to 17 years old. This Tampa Bay area organization provides a therapeutic residential group care program. The House gives its residents a nurturing, protected and family-like environment that can help them recover from the difficult situations that they have gone through. The children at the House were removed from their own homes because of various critical situations. Many of them have been to different foster homes through the years.
The Law Offices of Lucas | Magazine want to give back to the needy the blessings that they have received through the years. With this charity event, they hope to give the children at Joshua House a better and happier life. With this simple act of charity, the firm hopes to make a difference in the lives of the children and make them feel that they are not alone and someone is there to help them cope and forget the pains of their past.