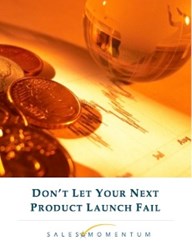 Too many new products fail because they're not successfully launched to the sales force.
Scottsdale, AZ (PRWEB) February 13, 2014
Sales Momentum today shares how B2B companies can maximize the impact of their product launches in its white paper - Don't Let Your Next Product Launch Fail.
Every year B2B companies launch an astounding number of new products. Some are modifications or minor upgrades of existing offerings. Others are designed to be significant revenue producers or game changers and a few are "bet the company" entries into the market. Unfortunately, all too often, the revenue from these new products fail to meet their goals.
There are many reasons – the market, timing, or even the product itself. Alternatively, new product sales often fall flat because the investment in improving the sales team's ability to sell the new product is inadequate.
Don't let your next product launch fail! "Without the knowledge and skills to sell the new product, sales reps go back to selling what they know because it's easier. But when provided training focused expressly on selling the new product, the probability of sales success increases dramatically", says Dr. Janet Spirer, co-founder of Sales Momentum.
Top sales performers follow three best practices when selling new products, which are shared in the Sales Momentum white paper – Don't Let Your Next Product Launch Fail. They are:
1. Understand the Market – know what drives the need for the new product.
2. Target the Right Companies – know the profile of good opportunities and identify potential early wins.
3. Understand the Customer's Buying Process – understand the key players, decision criteria and competitive threats.
By providing sales teams with the knowledge and skills to execute these three best practices as part of a new product launch, they will be positioned to drive revenue. According to Dr. Richard Ruff, co-founder of Sales Momentum, "To optimize results it's best to learn then launch vs. launch then learn. The sales training investment should be made and sales training implemented before the new product is launched. The more innovative the product, the more important it is to start the skill development before the launch."
The free white paper, Don't Let Your Next Product Launch Fail is available as a pdf file.
_________
About Sales Momentum
For more than 30 years Dr. Richard Ruff and Dr. Janet Spirer – the founders of Sales Momentum – have worked with the Fortune 1000 to design and develop sales training programs that make a difference. By working with companies – such as UPS, Smith & Nephew, Textron, the Center for Creative Leadership, and Robbins & Myers – they have learned that today's standard for a great sales force significantly differs from yesterday's picture. Janet and Richard co-authored Mastering Major Account Selling and Parlez- Vous Business. They also publish the sales blog - Sales Training Connection. Richard co-authored Managing Major Account Selling and Getting Partnering Right. The books are available here.
Contact
Janet Spirer, Ph.D.
Principal, Sales Momentum
9280 E. Thompson Peak Parkway - Suite 36 - Scottsdale, AZ 85255
Tel: 480-513-0900
jspirer(at)salesmomentum(dot)com
Web: http://www.salesmomentum.com
Web: http://www.salestrainingconnection.com