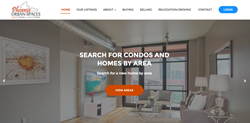 When visitors arrive to the Phoenix Urban Spaces website, they are presented with a number of search options including the ability to search homes and condos by community, to find out what the top communities in the Phoenix Valley area...
Phoenix, AZ (PRWEB) October 30, 2017
Roberta Candelaria, Owner and Designated Broker of Phoenix Urban Spaces, has just announced the launch of a new website re-design for PhoenixUrbanSpaces.com. Dedicated to giving buyers, sellers and investors full access to Phoenix real estate and the most exclusive properties in the area including luxury homes, condos, estates, land and other fine residences. The new site will incorporate a more seamless user experience, making the home buying and selling process easier than ever.
"If you are a foreign investor looking for the next income-producing property to add to your real estate portfolio, a buyer from across the nation looking for a new vacation home, or a seller searching for up-to-date market advice from a Phoenix community expert, all of these needs will be met with our newly-designed streamlined website," says Roberta.
When visitors arrive to the Phoenix Urban Spaces website, they are presented with a number of search options including the ability to search homes and condos by community, to find out what the top communities in the Phoenix Valley area are, and an exclusive look at featured properties broken out into specific areas. The navigation menu includes links to listings, information about Roberta, her team and Phoenix Urban Spaces, information on buying a home, information on selling a home, relocation and moving information and a contact page.
Designed to be comprehensive and user-friendly, the website is easily navigable and also presents buyers with detailed area and community information including the four most popular communities in the Phoenix Valley: Bella Lago, Two Biltmore Estates, Lakeshore at Andersen Springs and En Hance Park. The site also boasts a more streamlined layout to search featured active listings.
"We want this new website to be a hub of information for all of your buying and selling needs," says Roberta. Specializing in luxury homes and condos, Roberta Candelaria is known as the "Condo Queen" and has assisted numerous buyers, sellers and investors for years with all their Phoenix real estate needs. Roberta is a seasoned and experienced real estate agent who is extensively experienced in new construction homes. She is your go-to for investors looking to find revenue producing investment opportunities in the Phoenix area.
For first-time home buyers, Roberta will ensure that when the client closes on their new home, that they have a complete understanding of the process from beginning to end and that they will be 100% confident in their purchase. She is truly the expert in all aspects of buying and selling a home for all types of clientele.
Roberta takes great pride in leading her team of eight experienced real estate agents, including a relocation specialist, who have a good feel for the way to market evolves. The team has insider knowledge about the area and development projects happening in Phoenix and is very familiar with each special community within Phoenix, all of which can be seen more in-depth in the small boards located at the bottom of the homepage. For even more information, visitors can sign up on the bottom of the homepage to subscribe to Phoenix Urban Spaces' email list to receive exclusive news and updates. The new website will also feature Home Buying 101 and Home Selling 101 sections as well as a blog.
The true testaments to her exceptional real estate services are the number of repeat and referral clients she assists each year. Within the website, visitors can learn more about Roberta's experience and extensive real estate background in addition to exploring some of the many testimonials she has received over the years at the bottom of the homepage. Roberta has earned the title of expert in the attached living market for condos, townhomes and lofts and has worked with many clients on multiple properties – both purchasing and selling.
The new website reflects the wide range of services offered by Phoenix Urban Spaces and the wealth of knowledge and expertise Roberta Candelaria has compiled over her career, serving as one of Phoenix's top real estate professionals. For more information about Phoenix Urban Spaces, to the search the array of luxury properties available within today's Phoenix and Scottsdale real estate markets, and to explore the services offered by Roberta, visit PhoenixUrbanSpaces.com or get in touch with Roberta Candelaria directly at 602-791-3292. You can also follow the team on social media by scrolling to the bottom of the homepage where you will find social links to their Facebook, LinkedIn and Twitter pages.