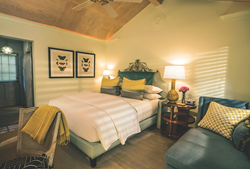 "I believe your environment has a direct effect on your frame of mind." --Mike McAdams, co-owner of Lake Austin Spa Resort
Austin, Texas (PRWEB) September 18, 2014
When Lake Austin Spa Resort co-owner Mike McAdams and interior designer Julio Quiñones set out to refresh the guest rooms at the award-winning 40-room destination spa and wellness resort in Austin, Texas, their creations fall in line with the makings of a haute couture dress. Ten newly renovated Luxury Garden Rooms, unveiled in September 2014 invite solo travelers and couples to soak in the intricate design details that evoke sophistication and style.
The new Luxury Garden Rooms feature glorious 12-foot wooden architectural ceilings, showcasing the animal friendly, faux leather nail studded headboard hugging the California King bed, drenched in rich fabrics and lush pillows. A custom-made slate blue chaise lounge sits alongside the large window overlooking the garden, which is a signature McAdams touch. His very first home furnishing purchase after graduating college was a chaise lounge he purchased at the Salvation Army. In the celebrated Blue Room at the LakeHouse Spa is that first chaise, re-upholstered and cloned, creating a matching set for post-massage napping. Clean lines, soft lighting around the ceiling and a subtle color palate make these rooms pleasing to the eye. The bathrooms are sleek and sophisticated and the soaking Kohler bathtub overlooks a private meditation garden, enhanced with a bubbling fountain, luxurious Brown Jordan Savannah chairs, exquisite lanterns and a Tucci umbrella.
Never one to rest on their laurels, the Austin, TX resort is constantly innovating in the areas of design and wellness. While staying on top of trends such as adding an Intuitive Energy and Floating Meditation to the robust list of spa services, an equally important aspect is the surroundings and while the constant level lake and enveloping Texas Hill Country is certainly a draw, so are the masterfully planned, beautiful and inspired interiors.
McAdams approaches each design challenge as another opportunity to bring relaxation and peace into each guest's experience. McAdams says, "I believe that your environment has a direct effect on your frame of mind and that the spaces we create at Lake Austin Spa Resort can have a profound effect on a guest's experience. When people first walk in, you can see their shoulders drop a couple of inches and immediately they are at ease and ready to let the stress melt away."
For the Luxury Garden Rooms, McAdams again teamed up with Julio Quiñones, named one of Dallas' Best Designers by D Home magazine and recognized as one of Metropolitan Home Magazine's World's Best Young Talents.
Earlier in 2014, fourteen Luxury Lakeview rooms were introduced with silk-trimmed linen swag canopies draped high on rosette medallions above the animal friendly faux leather upholstered wraparound beds. The soothing taupe, teal and sage color palette provides a calm breath, whether from the barely blue on the walls to the intricate textile embellishments of the bedding. It mimics the colors of the lake just beyond the front window. The ornate iron ivy sconces and giant antiqued mirror reinforce the sophisticated French modern feel. A large artisan-crafted ceramic lamp with delicate porcelain leaves and elaborate detailing makes a statement between the beds while its linen shade creates a calm and happy glow within the room. The bathroom and closet have been completely renovated with modern luxe fixtures and feature a standout color and motion sensor lighting. Original pieces of art were commissioned by Scott Winterrowd, a Dallas based artist who is currently the Curator of Education at the Meadows Museum at Southern Methodist University. His masterful original watercolors feature nature inspired scenes found on the property and adorn each guest room, reminding visitors of what lies just beyond their window.
All of the newly renovated rooms are equipped with retractable awnings and Brown Jordan furnishings on the patio to enjoy spectacular views of the gardens or the lake. Prices for the Luxury Garden Rooms start at $2328 per person (double occupancy), for three nights and include all meals, fitness classes and activities. Prices for the Luxury Lakeview Rooms start at $2455 per person (double occupancy), for three nights and include all meals, fitness classes and activities.
ABOUT LAKE AUSTIN SPA RESORT
Nestled along the shores of scenic Lake Austin in the beautiful Texas Hill Country, Lake Austin Spa Resort offers guests the sanctuary of a world-class spa and the warmth of a best friend's lake house. Lake Austin Spa Resort offers all-inclusive vacation packages, which include accommodations in one of 40 charming lakeside guest rooms, three gourmet meals daily, indoor and outdoor fitness activities and classes, and a selection of spa and body treatments.
The wellness resort has received numerous awards and accolades from prestigious national travel and spa magazines since its multi-million dollar renovation and expansion in 2004. Condé Nast Traveler, Travel + Leisure, US News & World Report, Fodor's, Allure, the Zagat Survey, Health, Garden Design, SpaFinder Wellness, and American Airlines' Celebrated Living magazine have honored Lake Austin Spa Resort as one of the best in the country and in the world.
For additional information and reservations, call 800-847-5637, or visit http://www.lakeaustin.com.
PR Contact: Darlene Fiske, 512-331-7755, darlene(at)thefiskegroup(dot)com