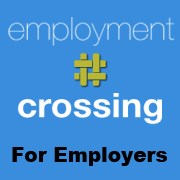 EmploymentCrossing Annual Job Posting service makes it easier for employers to find the right talent by instantly distributing jobs across the web.
Pasadena, CA (PRWEB) January 28, 2014
Employers might face challenges finding quality skilled workforce in 2014 due to the skill gap that exists. A novel skill bridging platform called EmploymentCrossing Annual Job Posting Service is now created to help employers target the right candidates for the right position easily.
"The goal of the EmploymentCrossing Annual Job Posting service is to make things easier for every employer, and to get positions filled fast with the right talent. We do this by instantly distributing jobs across the web so qualified job seekers see open jobs right away," Harrison Barnes, Chief Executive Officer, EmploymentCrossing.
According to an article published on CareerBuilder dated January 2, forecasting the hiring trends to watch for in 2014, ranking in the top 5 hiring trends, is the worsening of the skill gap. While half of the HR managers say that they're stuck with open positions for which they can't find qualified candidates, and nearly half (46 percent) say positions remain vacant for more than quarter of the year. Contributing further to this fact is that employers have now begun to pay for training their employees rather than trying to find new hires who are qualified for the job and do not need training on job.
This novel annual job posting service from Employment Crossing, allows employers to upload open positions to just one site, and get the jobs maximum visibility on 30+ job boards. This service maximizes reach for employers to target as many job seekers as possible. A key feature of this service is that employers can narrow down applicants by specific criteria, and can also ask questions that are important to the position.
Companies who have used this service include GE, Philips, Ebay, and IBM, to name a few. In 2014 it will be crucial to the success of companies to hire the right people the first time around, saving time and money.
EmploymentCrossing's Annual Job Posting Service can make this goal much easier to reach. The year 2014 shows brighter prospects for the job market, but employers are reluctant to commit to adding jobs until the outcomes of debt negotiations and economic expansion becomes clear.
About EmploymentCrossing:
EmploymentCrossing is part of the Employment Research Institute, which is one of the most powerful and comprehensive organizations dedicated to helping professionals find jobs that will enhance their careers. Employment Research Institute consists of 120+ industry-specific and 120+ location-specific job boards that consolidate every job opening it can find in one convenient location. The website also offers a 72-hour free trial to new members.