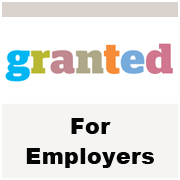 The new feature allows employers to add their own brief screening questions to the jobs they post on Granted.
Pasadena, CA (PRWEB) March 03, 2014
Traditionally, a graduate from a high-profile university typically found a good job effortlessly. But having a qualifying degree is no more a blanket recruitment requirement. "Hiring standards are changing in today's job market," says Chief Executive Officer of Granted Harrison Barnes. This has also been brought to light through the February 25 article titled "Business Leaders Say Knowledge Trumps College Pedigree" published on the Gallup, Inc website. Granted that offers hiring authorities numerous ways to streamline their recruitment process has recently introduced a feature to adapt to the changing needs of employers. It is giving its member employers the opportunity to add 'screening questions' to their job postings. This helps them recruit candidates having the skill sets they are looking for to advance their businesses.
According to Brandon Busteed, Executive Director of Gallup Education, what a candidate's major was and which college he/she graduated from no longer matters more than the skills they have. He agrees that intelligence, people skills, and an applicant's ability to do the job he/she is applying for are more important these days. In line with this, the Granted job site simplifies the hiring process, and assists employers in discovering the best candidate for their job openings in a short span. Catering to every location and industry, Granted automatically posts the job listed on its site by member employers on other relevant top job boards all over the Internet. The goal of Granted is not only to get positions filled up fast, but also to get them filled up with the right talent.
Available jobs are instantly distributed across the web where they are seen by a large number of job seekers. But hiring authorities usually don't want to waste time viewing resumes of every job seeker who responds to their active openings. With time, hiring authorities are becoming very selective about whom they want to hire. And it's here that Granted's new feature does its work. It makes the hiring process less challenging for employers.
The new feature allows employers to add their own brief screening questions to the jobs they post on Granted so that they can attract the most relevant job seeker audience to their listings. This helps filter out unqualified applicants at the very beginning of the hiring process. Additionally, employers get to know much more about qualifying candidates before scheduling an interview. Interviewers can learn about a prospect's short term and long term goals, reason to apply to that particular post and other skills not listed on the resume. This saves employers time and energy before and during the interviewing process.
About Granted:
Granted.com is a premier job search site with the largest job seeker database in the United States. It is an affiliate of the Employment Research Institute, the largest group of career related companies worldwide. Heading the operations of the website is Harrison Barnes, CEO of Granted.com. It has the most comprehensive database of job seekers and employers across all industries. The site is aimed at connecting professional job seekers to the right organizations in order to boost their careers. You can maximize your reach in the talent pool by posting jobs at one location. For more details, visit: http://www.granted.com