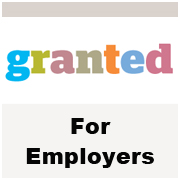 Making use of Granted's 'Job Seeker Emails' feature employers can find the perfect fit for every job.
Pasadena, CA (PRWEB) March 21, 2014
The latest job market research carried out by Granted reports that there are plenty of jobs going unfilled in the U.S. This is despite the fact that there are at least three unemployed people for every job opportunity. Making use of Granted's 'Job Seeker Emails' feature, employers can find the perfect fit for their job descriptions.
The statement made early this year by Gene Sperling, Director of the National Economic Council for President Barack Obama, still holds true. In a January 5 article titled "There are 3 unemployed people for every job opening, Obama adviser says" released on the PolitiFact website, Sperling claimed, "Our economy still has three people looking for every job." Harrison Barnes, Chief Executive Officer of Granted says, "To check this 3:1 ratio, it is essential that job seekers know about each and every available job opening. For this, employers need to post their jobs in the right place so that they can connect with candidates who are the 'best fit.' Many times opportunities go unnoticed. Granted offers a unique 'Job Seeker Emails' feature that sends job alerts to its members to help with this problem. It is a perfect solution that has the ability to direct a huge relevant job seeker audience to active openings."
In the U.S., jobless claims have risen less than expected last week. This means that more Americans are getting employed. "But, more than showing signs of a healing economy, the quit rate in America indicates a mismatch between job openings and job seekers. This has made short-term employment almost a trend," informs Barnes.
Recruiting the most suitable candidate is a daunting task. A great amount of time, money and energy is invested in reaching out to the perfect candidate, and subsequently getting that professional on board. Granted knows this and provides well thought out solutions to address the problem of filling thousands of jobs with qualified professionals. While the site allows its members to post their job vacancies on more than 30 sites at one click of a mouse to gain more exposure, it is also assisting them in gaining an edge over the competition by expanding their scope further with carefully crafted job seeker emails. Each new job opening posted by a member on the site is featured in the job alert emails that are sent to thousands of industry specific qualified job seekers. This way, employers can reach out to candidates who are perfect for their jobs. Employers can find out more about additional features that they can use to their benefit by visiting: http://www.granted.com/employers/jpfeatureslist.php
About Granted:
Granted.com is an innovative job search site based in Pasadena, CA. It has more than 1.5 million jobs, and is continually finding additional openings, putting it far ahead of the competition. It is a part of the Employment Research Institute and owned by A. Harrison Barnes.