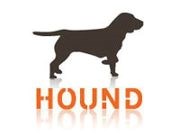 Most notable growth in nonfarm payroll jobs has been in California, Texas, Florida and New York.
Pasadena, CA (PRWEB) October 05, 2013
The world's largest consolidator of jobs from employer website, Hound, reports 1,505,693 active job openings on its job site. Of these 259,741 jobs were published within the past seven days. Of these opportunities a huge number have been posted by employers in America. The job growth on Hound.com is in line with September's ADP National Employment Report published by ADP Research Institute in close collaboration with Moody's Analytics.
Each day brings a new story related to fiscal upheavals in America showing that the economy has not recovered completely, but this has not restricted job growth. Jobs are growing slowly, yet steadily, in all fields. This growth will continue through 2014, as per A. Harrison Barnes, Chief Executive Officer of Hound; and through 2020, as per the Bureau of Labor Statistics' predictions reported in the 2012-13 Occupational Outlook Handbook.
As per the ADP report, employment is growing largely in the private sectors. Many employers had kept back from adding new workers to payrolls in the past few months, but now changes are observed in the hiring trends. Payroll processor ADP's National Employment Report that represents about 24 million U.S. employees showed that employment opportunities increased by 166,000 jobs from August to September. This is well reflected in the surge of job postings on Hound.com.
Moreover, researchers at Hound analyzed Table 5 of BLS' Regional and State Employment and Unemployment Report (modified on 20 September) and observed that the most notable growth in nonfarm payroll jobs has been in California, Texas, Florida and New York. Above 126480 job opportunities in California, 63871 chances in Florida, More than 99510 jobs posted for Texas and 57464 active openings in New York listed on Hound.com gives a preview of this data.
Hound receives hundreds of testimonials each week from professionals who have acquired jobs using the site and its services. You too can find a job as per your preference on the site. Simply visit http://www.hound.com/gjbrowsejobs.php where you can conduct categorical, state-wise or city-wise searches as per your needs. Moreover, Hound also offers assistance to create impressive resumes and job search advice to their 'Houndies.' Become a 'Houndie' today and rise faster above the crowd.
About Hound:
Hound.com is a job search site based in Pasadena, CA. It is a part of the Employment Research Institute and owned by A. Harrison Barnes.