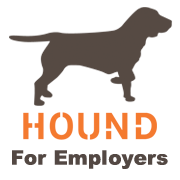 The recently updated 'Employer' page on Hound is the perfect answer to a recruiter's need to match the right candidate to an open position.
Pasadena, CA (PRWEB) March 07, 2014
According to the 'ADP National Employment Report February 2014,' private-sector employment has increased by 139,000 from January to February on a seasonally adjusted basis. Even though more jobs have been created, the unemployment rate holds strong at 6.6%. Harrison Barnes, Chief Executive Officer of Hound says that this is because 'cautious hiring' continues to date as jitters about the economy linger. The latest market research by Hound shows that in the current scenario, when the economy is still stabilizing, most employers want to hire fewer people who can handle many responsibilities. This group of qualified professionals with at least a bachelor's degree is limited in contrast to the number of employment opportunities available. It is widely known that a suitable staff can help raise the profitability of a business. Employers can reach out to this group of qualified professionals making use of the job posting services offered to subscribers on the Hound 'Employer' page.
The recently updated 'Employer' page on Hound is the perfect answer to a recruiter's need to match the right candidate to an open position. Becoming a member on the Employer page gives hiring authorities access to a large database of resumes at just one location. This means that they no longer are required to visit all the top job boards out there in search of the right talent. They simply have to log in to their account on Hound and conduct a search on the basis of the keyword and the location parameters to find the perfect fit for their business. All the resumes of shortlisted candidates can be saved categorically for future reference and shared with other team members through a next-generation interface that is very easy to use. Posting a vacancy on the 'Employer' page means having it featured on industry relevant top job boards across the Internet as well. This is done at no extra cost. Consequently, employer job postings are also viewed by a large relevant job seeker audience that doesn't visit the Hound website.
Barnes says, "Finding the right professional for a job can be a daunting task. This often becomes tough when hiring authorities do not define what type of person they are seeking. For this, Hound offers customer support via phone, live chat or email to help make the hiring process effortless." To find out more visit: http://www.hound.com/employers/lcjobpostingmain.php
About Hound:
Hound.com is a job search site based in Pasadena, CA. With hundreds of thousands of job openings direct from employer websites, Hound.com offers more direct employer jobs than any other job site. It is a part of the Employment Research Institute and owned by A. Harrison Barnes.