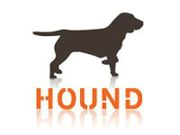 Hound sniffs out even unadvertised vacancies and keeps its members informed about these.
Pasadena, CA (PRWEB) March 15, 2014
Employers added 175,000 jobs in the U.S. last month despite the unseasonably cold winter, according to the Employment Situation Summary released by the Bureau of Labor Department on March 7. Continued job growth and the stabilizing economy is making the Fed confident enough to maintain the pace of tapering at its next week's meeting, informs "US February Jobs Report 2014: Unemployment Rate Ticks Up To 6.7%, Nonfarm Payrolls Rise By 175k," the March 7 article published on International Business Times. Hound echoes this job growth reporting more than 1,601,600 active openings in the country. In addition, Hound predicts a steady job growth that will take the employment recovery to pre-recession levels in Fall 2014.
According to Harrison Barnes, Chief Executive Officer of Hound, "The economy is not weakening anymore. It's strengthening. February's brutal storm led many businesses in the Southeast to forcefully shut down operations. This was a major cause for the tick up in the jobless rate. Conversely, the West led the job growth." Rapid payroll increases were noted in North Dakota, Colorado, Texas, Arizona, Idaho, Utah and Oregon. Conducting an in-depth job market research, Barnes says that hourly wages for all employees have also been up 2.2% over the past year, which is encouraging.
However, many unemployed or underemployed individuals are failing to benefit from the growing job opportunities in the country. A major reason for this is that they are not looking for jobs at the right place. Hound knows how difficult it is for job seekers to reach out to the most suitable job opportunities out there, especially when they are making use of traditional job search methodologies and when they don't know how to enter the hidden job market. Hound sniffs out even unadvertised vacancies and keeps its members informed about these. This week itself, Hound has reported 234,000 hidden jobs.
The job market is witnessing a robust growth and it's an opportune time for job seekers to conduct a job search. To access lots of real jobs and positions employers are hungry to hire for, job seekers can sign up here: http://www.hound.com/gjspecialoffer.php.
About Hound:
Hound.com is a job search site based in Pasadena, CA. With hundreds of thousands of job openings direct from employer websites, Hound.com offers more direct employer jobs than any other job site. It is a part of the Employment Research Institute and owned by A. Harrison Barnes.