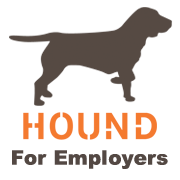 Having precise and attractive job descriptions on social networking sites can make it easier to expand teams with the right people.- Harrison Barnes, CEO, Hound
Pasadena, CA (PRWEB) March 22, 2014
According to the Employment Situation – February 2014 report released by the Bureau of Labor Statistics on March 7, "The number of long-term unemployed (those jobless for 27 weeks or more) increased by 203,000 in February to 3.8 million." Despite the huge number of unemployed people in the country, not all of the employers are able to recruit the perfect staff for these new openings. Hound says that this is mainly attributed to the fact that employers haven't yet taken to social networking in a big way.
"In the current low-confidence job market people are putting less effort into their job hunts. Nevertheless, they do try to remain in contact with industry leaders in their chosen field," says Harrison Barnes, Chief Executive Officer of Hound. Negative views regarding the job situation have not prevented job seekers and the under-employed from networking. They are extremely active on social networking sites like LinkedIn, Twitter and Pinterest. Hound helps employers distribute their jobs on these highly trafficked social networking sites and get noticed by the right talent. Through this recruitment strategy, Hound helps its member employers benefit, even from job seeker traffic which may not be actively looking for a job and is probably not visiting its web pages. This adds to Hound's uniqueness.
"Oftentimes people unemployed for a long time are viewed by employers as undesirable," says Barnes. "This is because employers typically decide on recruiting candidates on the basis of their resume alone and employment gaps do not go very well with them," he explains. Social networking helps employers learn more about people and their interests. Hound has always served as a loyal partner, helping member employers accelerate their business growth by ensuring a suitable match for each of their active job positions. Working to the advantage of employers, Hound connects them to a large database of talent who can help boost their business growth by using social media.
With its speedy and innovative recruitment strategies, Hound helps hiring authorities get a quick reply to each of their active openings. Sometimes vacancies need to be filled urgently. Having precise and attractive job descriptions on social networking sites can make it easier to expand teams with the right people, declares Barnes. In the pursuit of helping businesses progress further with efficient teams, every job listed on Hound is distributed and posted on top social network sites at no additional cost. To get maximum social network exposure, employers can post their jobs here: http://www.hound.com/employers/lcjobpostingmain.php
About Hound:
Hound.com is an innovative job site based in Pasadena, CA. It offers job posting for employers to 30+ top job sites and an easy resume search to help them find the perfect candidate for any position. In addition, with hundreds of thousands of job openings direct from employer websites, Hound.com offers more direct employer jobs for job seekers than any other job site. It is a part of the Employment Research Institute and owned by A. Harrison Barnes.