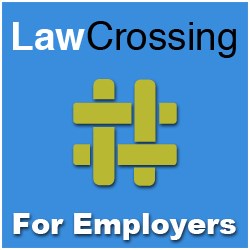 Online legal job postings have been specially designed to help recruiters hire the right talent. This is a marketplace where the recruiters and the job seekers meet.
Pasadena, CA (PRWEB) January 22, 2014
If your law firm aims to attract the best in-demand talent to rule the competition then LawCrossing is a must-visit site that can definitely draw a huge talent pool. Jobs posted on LawCrossing are instantly featured on more than 30+ associated sites, as well as other top ranked job sites at the reasonably priced cost of one post.
A recent article indicating 'Legal Trends in 2014' published on LumenLegal.com, talks about the evolving trends in the legal industry demanding a need for change. Law firms currently focus on efficiency and not necessarily on effectiveness. The key for lawyers today is to shift their focus from the immediate client to the ultimate client. A large chunk of professional businesses are now being performed by alternative vendors and LPOs instead of law firms, which means that the firms need to improve on their existing business models.
Harrison Barnes, Chief Executive Officer, LawCrossing.com says, "Online legal job postings have been specially designed to help recruiters hire the right talent. Using this feature, we are able to reach out to thousands of candidates across the globe to help meet needs of the recruiter. This is a marketplace where the recruiters and the job seekers meet."
The legal industry will further witness a shift in 2014 towards the use of mid-size firms for big ticket litigation. The 2013 CounselLink Enterprise Legal Management Trends Report published by LexisNexis.com indicates growth in mid-size firms with an increase in U.S legal fees from 18% to 22% in the previous 12 months that led to June 30, 2013. The study further found that mid-size firms billed nearly twice as much (as the Largest 50) under alternative fee arrangements, and these trends will continue in 2014.
In the years to come, the legal industry as a whole will see the already occurring trends continue, such as the dis-aggregation and redistribution of work and the shift from big firms to smaller and regional firms, as well as the performance of legal-related tasks by non-lawyers. Now the question that springs up is how will these changing trends in the legal industry impact the hiring sphere? All these logical indications lead to a simple conclusion: that the law firms hiring in 2014 will focus on bringing in the best and brightest talent in the industry on their legal board that will surpass the quality of work done and standards set by the competition.
Quoting John Wallbillich, Founder, Lexvista LLC, from the above report, "Law firms are going to find their services judged to a more global—and more exacting—standard. The legal industry doesn't exist in a vacuum; it's a service industry defined by the needs of clients who are dealing with demanding customers. Delivering legal services in a more efficient and timely manner will make the client's pursuit of the ultimate customer more competitive."
Furthermore, the legal recruiting job board, LawCrossing, provides hiring authorities and legal professionals an opportunity to network and forge fulfilling relationships by building their digital reputation. These services offered make LawCrossing the highly trafficked legal website and also serve as a one-stop employment resource for law students, law schools, lawyers, attorneys and other legal professionals.
To reach out to the right legal audience, LawCrossing provides employers the reach to employees using specific search information, organizes the hiring process, and manages applications to save you time and money. For further details visit: http://www.lawcrossing.com/employers/lcjpfaq.php
About LawCrossing:
LawCrossing is an affiliate of Employment Research Institute, a powerful and comprehensive organization dedicated to help professionals, as well as first timers, find jobs that will enhance their careers. LawCrossing consolidates every legal job opening it can find in one convenient location. LawCrossing has been on the Inc. 500 twice. The website also offers a three-day free trial to new members.