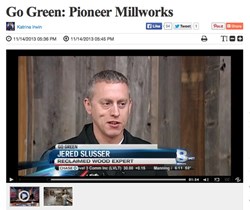 Pioneer Millworks fully manufactures in the USA in a way that's healthy for the community, their employees, and the environment.
Farmington, New York (PRWEB) November 29, 2013
Throughout their 25+ years in the reclaimed wood business, Pioneer Millworks has implemented several environmentally conscientious practices in their Farmington headquarters. The News 8 "Go Green" series visited the company to provide viewers an insider's look, an exploration of the green process happening at the local company. Two of their November 2013 segments focused on Pioneer Millworks' reclaimed wood sources, third party eco-certifications, use of scraps, and company ethos.
"We are very excited to have been part of News 8 Go Green series," explained Jennifer Young, general manager at Pioneer Millworks. "We often explain that our products are fully manufactured in the USA, right here in Farmington, New York, in a way that's healthy for our community, our employees, and the planet. It was fun to have News 8 explore what we're up to, how we're green."
Reporter Katrina Irwin toured Pioneer Millworks headquarters, examining reclaimed timbers in the 9 acre yard and following the manufacturing process through their mill. Pioneer Millworks shared details of their operation from reclamation sources, to inventory tracking, to milling. Of particular interest to Irwin was Pioneer Millworks scrap and sawdust re-use management. Young explained, "We capture all of our scraps, using them to fuel our high efficient, clean burning boilers which heat our office. We also sell all the sawdust we produce. On average, ninety-five tons a month go to animal bedding or are made into wood pellets for pellet stoves."
During filming Irwin pointed out that even the mill at Pioneer Millworks is recycled. Originally it was the Raceway Bowling Alley. The company is also part of the Forest Stewardship Council, which means they meet strict environmental, third party standards. "We were one of the first three in the country to go to that length and by being certified, we're proving to the public, assuring everyone, that we are actually reclaiming and producing the right way," Young said.
Irwin and Young also discussed Pioneer Millworks employee environmental benefits, from incentives for upgrading to vehicles with better fuel economy, to recycling electronics, batteries, and light bulbs through the company's recycling program. Shifting back to the company as a whole, Young said, "By the end of 2013 we'll have a solar roof array with over 180 solar-electric panels. The energy they produce will run our office and supplement the power demands of our mill."
To view both video segments, visit News 8 online:
Pioneer Millworks "Go Green" segment 1
Pioneer Millworks "Go Green" segment 2
Pioneer Millworks is the leader in the reclaimed wood industry. To date, they've rescued nearly 22 million board feet of old wood from rot and landfills, giving it new life as flooring, millwork, cabinetry, and more. All manufactured in the USA from New York and Oregon — in a way that's healthy for customers, employees, and the environment. Pioneer Millworks is FSC certified and Green America approved. All of their products are LEED point eligible.