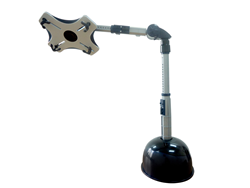 If you own a tablet but get tired holding it while reading, cooking, or watching a movie, give Bee Towers a try!
Washington, DC (PRWEB) September 23, 2014
"Bee Towers" was featured on NewsWatch as part of its monthly Tech Report, which reviews and features the latest technology gadgets and services available to consumers. Mallory Sofastaii, a host of NewsWatch and technology expert, conducted the tech review and shared with viewers how it can hold tablets to reduce neck strain and fatigue.
Tablet sales rates in the United States continue to climb. According to Pew Research, over 40% of Americans now own a tablet.
For consumers who own a tablet but want a convenient way to support and properly view it while in bed, on the couch, cooking, or using it for work to prevent neck strain and fatigue, check out Bee Towers by XAR Motion.
Bee Towers is a floor standing tablet holder that can hold tablets between 5 inches and 11 inches. It's a modern style with two base designs. The newest design features a sleek flat weighted base, but both feature an easy-to-adjust push button telescoping arm and body. The arm also tilts to different angles and greater heights from 5 to 180 degrees vertically. Tablet owners can also spin the arm horizontally, up to 360 degrees.
The tablet holder features spring locks and a thickness adjustment to secure any tablet and it rotates and tilts on a ball joint for multiple viewing angles.
Bee Towers is great for reading an ebook, playing a game, following a recipe, using for work, or surfing the web.
To learn more or purchase one, visit http://www.xarmotion.com.
About NewsWatch
NewsWatch is a weekly 30-minute consumer oriented television show that airs on the History Channel, FYI Network, and ION Network. NewsWatch regularly features top technology products and services, mobile applications for iOS, Android, and Windows devices, unique and beautiful travel destinations around the world, health and medical tips, and entertainment interviews on the show. NewsWatch airs on the History Channel at 6:00 – 6:30 AM ET/PT and on the FYI Network from 7:00 – 7:30 AM ET.
NewsWatch is located in the greater Washington, DC area and has been on air for over 25 years. For more information or to watch the most recent episode, visit http://newswatchtv.com.