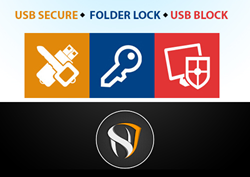 The data security suite involves 3 of our best products. Folder Lock, USB Block & USB Secure. These Software are available with a 31% discount by using the coupon "HOTDEAL"
Bertram,WA (PRWEB) November 18, 2015
NewSoftwares.net has recently announced that it would be giving away discount coupons to all customers who wish to buy Data Security suite.
The company said in a statement that they have been receiving emails from hundreds of users complaining that the price is a bit too high for the Data Security Suite. Therefore the company has decided to offer a 31% discount coupon to everyone interested in their product. People only need to enter 'HOTDEAL' in the coupon code window and the price of the product shall immediately
Get 31% Off the Data Security Suite now.
Why is the discount being offered now?
Theft and hacking has never been a bigger problem then it is today. Hackers range from average people to complete terrorist organizations. No one is safe from this threat, not even celebrities or government organizations. NewSoftwares.net believes that a wider audience should be protected from this ever-increasing threat. Therefore, the company believes that this is the best time to offer such coupons to the general public.
Preventing theft of personal or corporate data with Folder Lock.
Whether it's corporate or personal data, it needs to be secured under all circumstances. Imagine if a person's laptop or desktop is stolen? What would happen to his personal or corporate data? Chances are it may be used to steal his identity or his company's secrets. So, what's the easiest and safest means of keeping such information locked and inaccessible for criminals? The answer lies in using encryption software such as Folder Lock. Although, there are countless other encryption software available on the consumer market, Folder Lock is superior to all of them. Why? First of all, it's the only commercially available suite to offer users the ability to create self-executable encrypted lockers using AES-256 encryption standards – the same standards used by the U.S Military. In fact,
Folder Lock has been rated the best encryption software by top ten reviewers, winning their prestigious Gold award. Finally, Folder Lock users can take advantage of several other features, not available on any other software. With Folder Lock, users can hide and lock files and folders, encrypt data up to several terabytes in lockers, sync and backup encrypted lockers to the cloud, send encrypted email attachments, shred files and protect CD's.
Small to medium sized business owners have one major concern that keep them up at night, and that is, theft of company secrets/intellectual property or corporate data by rogue employees. That's where NewSoftwares.net comes in. They provide variety of products and services to the user, allowing them to take a sigh of relief.
NewSoftwares.net has taken another leap forward by inviting other IT companies to come and act as our distributors and partners to increase the visibility of the above mentioned software. They are offering great reductions in price, to make it easier for these companies to be able to pick up this software and implement it in their company infrastructure.