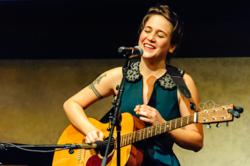 The Mountain Stage NewSong Contest has brought a lot of exceptional talent to our attention. And, it's not only the winners – but many finalists have appeared on Mountain Stage over the years. - Larry Groce, Mountain Stage Host and Artistic Director
New York, NY (PRWEB) July 12, 2013
NewSong Music has recently announced the launch of its 12th annual Mountain Stage NewSong Contest – one of North America's premier showcases of emerging performing songwriters that spans an array of genres, and includes Regional rounds.
In the Regional rounds, which have an application deadline of July 31, ten finalists will be chosen from each of the six regions. All sixty regional finalists will then participate in a 'People's Choice' award – which last year drew votes from over 10,000 people for their favorite regional finalist.
Twelve finalists in this year's overall contest will be invited to perform in the live performance finals on Saturday, October 19 at the Lincoln Center for the Performing Arts' David Rubenstein Atrium in New York City. There, a panel of music industry judges will select the 2013 grand prize winner, who will then receive a suite of career-advancing recording and performance opportunities that include:

"This is a unique opportunity for artists to work with one of the top producers in the industry," said Gar Ragland, director and co-founder of NewSong Music. "And, we're also proud to continue our long relationship with Mountain Stage. For nearly 30 years, they've been showcasing some of the world's best music performers and songwriters."
NewSong is an independent music organization. Its mission is to build a supportive community of performers and songwriters across all genres of music and levels of skill, while identifying truly exceptional artists within this community and introducing their music to a broader, international audience.
For the third year in a row, NewSong contestants not only have the unique opportunity to perform at Mountain Stage, Lincoln Center and Sundance, but to work with an esteemed music producer to record and release a potentially career-busting project.
The 2010 grand prize winner Amber Rubarth won the opportunity to record Grammy winning producer Jacquire King (Kings of Leon, Norah Jones, Modest Mouse, Cold War Kids, Tom Waits). The 2011 winner Arthur Alligood worked with hit songwriter and producer Mikal Blue (Jason Mraz, Colbie Caillat), and last year's winner Lora-Faye recently finished recording her grand prize recording with producer and mixer Iestyn Polson (David Gray, Patti Smith, David Bowie).
"The things that are unique and special about the NewSong Contest is that it seemed to be connecting people and has community atmosphere," said producer King. "It's nice that there's a network, and that the NewSong Contest is part of furthering that in the music community and among singer-songwriters."
"The Mountain Stage NewSong Contest has brought a lot of exceptional talent to our attention," said Larry Groce, Mountain Stage Host and Artistic Director. "And, it's not only the winners – but many finalists have appeared on Mountain Stage over the years including Ingrid Michaelson, Diana Jones, Antje Duvekot and Meg Hutchinson. The fact that the contestants are judged by their songs as well as their performances equally makes it very appealing to us."
The NewSong Contest is officially accepting submissions at http://newsong-music.com/contest. Submissions start at $35 per song, with discounts for multiple submissions and members of songwriting organizations. The contest features both a general and regional round, with an upcoming regional round submission deadline on July 31. The final deadline to submit to this year's contest is September 15, 2013.