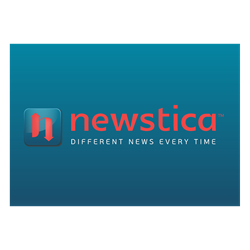 Current news available quickly, conveniently, and on the fly.
OTTAWA, Ontario, (PRWEB) September 18, 2014
Newstica.com has announced the launch of its new mobile device app, bringing all the same innovative custom features that website news readers have come to love, to Android, iPhone and iPad mobile devices.
Newstica.com developers designed the app to engage busy individuals who want to become better informed about their world by making current news available quickly, conveniently, and on the fly. The app taps thousands of quality news sources worldwide to deliver breaking news on a broad range of topics every time the user plugs in.
Some key features of the Newstica.com app include:

New content every time. No story repeats.
Fed by more than 5,000 worldwide news sources.
Fifteen separate news categories from which to choose; users organize their home page according to personal preferences.
Intelligent technology helps users save additional time by adding more news stories without having to change screens.
Users can synchronize their account and saved stories with Newstica.com on their mobile phone and/or iPad.
Businesses, organizations, non-profits and educators can even access their own paid, customized versions of Newstica, further narrowing their news feeds to content relevant to their specific needs and interests. Newstica.com is available internationally including Canada, USA, UK, India, New Zealand and Australia.
The Newstica.com app is a free download, available through the Apple Store and Google Play. For more information, visit the Newstica.com website.
About Newstica.com:
Newstica.com is owned by Ottawa, Canada-based Jesu Consulting Inc. The Newstica team is dedicated to keeping its users informed and up-to-date with new content every time they view the site. Newstica's innovative, fresh approach to sharing news means that visitor's never have to read the same news twice.
Contact:
Jesu Consulting Inc.
38 Auriga Drive, Suite 220
Ottawa, Ontario
Canada K2E 8A5
1-613-853-6851
contact(at)newstica(dot)com