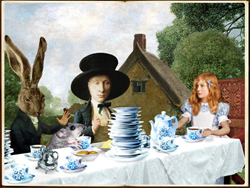 (PRWEB) July 09, 2014
"Alice App" was featured on NewsWatch as part of its monthly AppWatch, which takes a look at the latest and coolest mobile applications on the iOS, Android, and Windows market. Andrew Tropeano, a host of NewsWatch and mobile technology expert, conducted the app review and shared with viewers how global artist Emmanuel Paletz used renaissance art to create the application.
Alice's Adventures in Wonderland is one of the most beloved and popular stories in modern literature. For the past one hundred and fifty years, children and adults have read and watched the classic tale in books, movies, and live performances.
Global artist, Emmanuel Paletz, used a collage of art from the renaissance period to create the Alice App. It took four years to create, and what consumers get is a beautiful and engaging experience that not only tells the story, but also teaches children literacy skills, educates them on classic and influential art, and stimulates their creativity.
As readers work their way through the app, they'll encounter riddles and puzzles on each page along with the story narration. At the end of the application, readers learn about each piece of art in the book and see where it came from and the history behind it.
The Alice App is a truly unique app that is available for iOS and Android devices.
For additional information or to download the application, visit http://www.thealiceapp.com.
About NewsWatch
NewsWatch is a weekly 30-minute consumer oriented television show that also airs monthly on the History Channel, Bio Channel, and ION Network. NewsWatch regularly features top technology products, unique and beautiful travel destinations, health tips, medical breakthroughs, and entertainment news on the show.
A recent addition, the NewsWatch AppWatch is a weekly segment that provides viewers app reviews and game reviews of the latest and hottest apps and games on the market for iOS, Android, Windows, and other devices.
NewsWatch airs in 180 markets nationwide as well as all of the top 20 broadcast markets in the country, and is the preferred choice for Satellite Media Tour and Video News Release Distribution. For more information or to watch the June 2014 show, visit http://www.newswatchtv.com/appwatch.html.
NewsWatch airs on the History Channel at 6:00 – 6:30 AM ET/PT and on the Bio Channel from 7:00 – 7:30 AM ET.