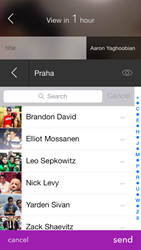 Washington, DC (PRWEB) October 04, 2014
"Backflash" was featured on NewsWatch as part of its monthly AppWatch, which features the latest and coolest mobile applications on the iOS, Android, and Windows markets. Andrew Tropeano, a mobile technology expert and host of NewsWatch, conducted the app review and shared with viewers how it allows users to share videos with their friends to relive a moment at a future date.
Backflash allows users to relive an evening out. The app takes a video and share it with the user's friends to relive the moment at some future date. Elliot Mossanen, a junior at the University of Wisconsin, decided to make it after a night out on the town.
Backflash has a lot of fun features to play around with. Users can choose how many times it can be viewed –1, 2, 3, or an unlimited amount of times. It stitches cuts together when a user starts and stops recording. Users can also speed up or slow down the video.
Backflash has been used for a night out, sending birthday and anniversary wishes, making predictions, and tracking fitness goals. One real fun feature is users can choose the frame their friends see as the thumbnail and blur it for suspense.
It's a free app for iOS and Android devices. To download it visit the Appstore and search "Backflash" or head to http://www.backflashapp.com.
About NewsWatch
NewsWatch is a weekly 30-minute consumer oriented television show that airs on the History Channel, FYI Network, and ION Network. NewsWatch regularly features top technology products and services, mobile applications for iOS, Android, and Windows devices, unique and beautiful travel destinations around the world, health and medical tips, and entertainment interviews on the show. NewsWatch airs on the History Channel at 6:00 – 6:30 AM ET/PT and on the FYI Network from 7:00 – 7:30 AM ET.
NewsWatch is located in the greater Washington, DC area and has been on air for over 25 years. For more information or to watch the most recent episode, visit http://newswatchtv.com/appwatch.html.