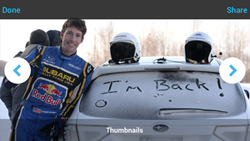 Washington, DC (PRWEB) October 02, 2014
"Subaru MotorSports" was featured on NewsWatch as part of its monthly AppWatch, which features the latest and coolest mobile applications on the iOS, Android, and Windows markets. Andrew Tropeano, a mobile technology expert and host of NewsWatch, conducted the app review and shared with viewers how it is uses a 360 degree camera to share the true rally car experience with fans.
Fans of rally car races have seen the Subaru Rally Team win multiple championships. With drivers like David Higgins and Travis Pastrana, it's no surprise that they've won eight championships since 2006. Subaru just came out with a new app called the Subaru Motorsports app, which has a 360 degree HD mobile video player that lets fans see everything going on during a race.
The video comes from a camera that's mounted on the top of the rally car and inside it. Subaru is capturing the footage for rally and global rally cross racing. With the app, users can swipe with their finger or move the phone to see anywhere and everywhere during a race.
They've also released a virtual reality headset that takes that video and basically throws fans into it. With the headset on, fans feel like they're actually next to the driver as he rubs up against other cars and flies around crazy turns. It's a really cool experience.
The app also has a few other features that rally car fans will appreciate, like updates and racing schedules, and local races. It's a free app for ios and android devices. To download it, head to the Appstore or Google Play Store and search Subaru Motorsports or visit https://itunes.apple.com/us/app/subaru-motorsports/id883073883?mt=8.
About NewsWatch
NewsWatch is a weekly 30-minute consumer oriented television show that airs on the History Channel, FYI Network, and ION Network. NewsWatch regularly features top technology products and services, mobile applications for iOS, Android, and Windows devices, unique and beautiful travel destinations around the world, health and medical tips, and entertainment interviews on the show. NewsWatch airs on the History Channel at 6:00 – 6:30 AM ET/PT and on the FYI Network from 7:00 – 7:30 AM ET.
NewsWatch is located in the greater Washington, DC area and has been on air for over 25 years. For more information or to watch the most recent episode, visit http://newswatchtv.com/appwatch.html.