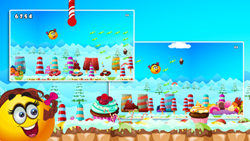 Taffy Bounce is a fun and addictive game for people of all ages. Definitely recommend it!
Washington, DC (PRWEB) August 08, 2014
"Taffy Bounce" was featured on NewsWatch as part of its monthly NewsWatch AppWatch, which takes a look at the latest and coolest apps on the iOS, Android, and Windows markets. Andrew Tropeano, a host of NewsWatch and a mobile technology expert, conducted the app review and shared with viewers how it's a fun and addictive game made by a company based out of Saudi Arabia.
Taffy Bounce was created by United Technology Solutions, a company based out of Saudi Arabia and the premise is simple. Players help the Candy prince and his friends make it across an endless plane by drawing bouncy taffy beneath him. He'll hit each one and bounce forwards, backwards, or upwards, depending on the taffy created. As he comes back down, players need to draw the next taffy to keep him bouncing.
Throughout the game, players try to grab points, which are basically wrapped candy, and random bonuses that fly across the screen that help the taffy prince speed through the game and get more candy.
There are multiple levels players can bounce through, and up to four characters to choose from . Including a prince, a girl, a pirate, and a discoverer. Players can challenge friends and random people to play with the multiplayer function.
The developers listen to their customer feedback; they incorporated new features like playing with the prince for free with no limits, new obstacles, and having to capture the prize taffy to complete levels.
To give it a try on an iOS device, head to the appstore and search "Taffy Bounce" or visit https://itunes.apple.com/us/app/taffybounce!-bounce-on-taffy/id806692029?mt=8.
About NewsWatch
NewsWatch is a weekly 30-minute consumer oriented television show that airs on the History Channel, FYI Network, and ION Network. NewsWatch regularly features top technology products and services, mobile applications for iOS, Android, and Windows devices, unique and beautiful travel destinations around the world, health and medical tips, and entertainment interviews on the show. NewsWatch airs on the History Channel at 6:00 – 6:30 AM ET/PT and on the FYI Network from 7:00 – 7:30 AM ET.
NewsWatch is located in the greater Washington, DC area and has been on air for over 25 years. For more information or to watch the most recent episode, visit http://newswatchtv.com.