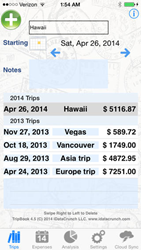 A great app for travelers. It'll help you stay organized and on budget!
Washington, DC (PRWEB) August 09, 2014
The "Trip Book - Travel Planner and Organizer" was featured on NewsWatch as part of its monthly NewsWatch AppWatch, which takes a look at the latest and coolest apps on the iOS, Android, and Windows markets. Andrew Tropeano, a host of NewsWatch and a mobile technology expert, conducted the app review and shared with viewers how it's the perfect app for managing and staying within a travel budget.
For people who travel for work or pleasure, managing money is crucial. Whether that's tracking expenses, setting a budget, or calculating currencies, everything adds up.
Trip Book - Travel Planner and Organizer is an app that's been in the appstore for three years and is ranked as one of the best travel apps. With it, travelers can manage expenses, budgets, and currency exchanges, but also organize by category, setup alerts, itineraries and export reports easily. It can all be done while offline.
Trip Book - Travel Planner and Organizer also has a cloud sync feature that lets travelers store data on the cloud or across multiple devices. With it, leisure travelers know exactly how much money they've spent and how above or below budget they are – which means they won't get stuck in a random town without money for gas or food. Business travelers can easily stay within their per diem and export an expense sheet to accounting.
Trip Book - Travel Planner and Organizer is available for iOS devices for $1.99. Visit the appstore and search "Trip Book - Travel Planner and Organizer" to download. Or visit https://itunes.apple.com/us/app/trip-book-travel-planner-organizer/id425590051?mt=8.
About NewsWatch
NewsWatch is a weekly 30-minute consumer oriented television show that airs on the History Channel, FYI Network, and ION Network. NewsWatch regularly features top technology products and services, mobile applications for iOS, Android, and Windows devices, unique and beautiful travel destinations around the world, health and medical tips, and entertainment interviews on the show. NewsWatch airs on the History Channel at 6:00 – 6:30 AM ET/PT and on the FYI Network from 7:00 – 7:30 AM ET.
NewsWatch is located in the greater Washington, DC area and has been on air for over 25 years. For more information or to watch the most recent episode, visit http://newswatchtv.com.