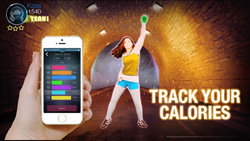 NewsWatch AppWatch loved Dance Party for Apple TV. It's a great game for people of all ages.
Washington, DC (PRWEB) August 12, 2014
"Dance Party for Apple TV" was featured on NewsWatch as part of its monthly AppWatch, which takes a look at the latest and coolest apps on the iOS, Android, and Windows markets. Andrew Tropeano, a host of NewsWatch and a mobile technology expert, conducted the app review and shared with viewers how it's a fun and interactive dance app for iOS devices and Apple TV users.
Most people love dancing. Not only is it fun but it's proven to boost health, muscular strength, and weight. Dance fans should check out a cool app for Apple TV called Dance Party.
Dance Part is an app that is downloaded to a phone, then linked to an Apple TV, or any other monitor with airplay capabilities. The app then challenges players to dance to songs and mimic the dancer on screen. Meanwhile, the app tracks a dancers motion through the gyroscope and accelerometer and lets them know how they're doing with scores and rankings.
Dancers can play by themselves, with friends, or against people online around the world. It can be used as a workout, at a party, or to cure boredom.
There are multiple songs and dances, each with various levels of difficulty. The most difficult being the blindfold mode, where dancers have to remember the dance for a song without seeing the person on screen. Obviously the more a dancer plays, the more points they get and the more things are unlocked. For workouts, the app also tracks calories burnt.
To give it a try, head to the app store and search "Dance Party for Apple TV" or head to http://www.dancepartygame.com.
About NewsWatch
NewsWatch is a weekly 30-minute consumer oriented television show that airs on the History Channel, FYI Network, and ION Network. NewsWatch regularly features top technology products and services, mobile applications for iOS, Android, and Windows devices, unique and beautiful travel destinations around the world, health and medical tips, and entertainment interviews on the show. NewsWatch airs on the History Channel at 6:00 – 6:30 AM ET/PT and on the FYI Network from 7:00 – 7:30 AM ET.
NewsWatch is located in the greater Washington, DC area and has been on air for over 25 years. For more information or to watch the most recent episode, visit http://newswatchtv.com.