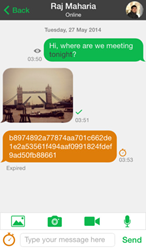 PQChat is the next big thing in text messaging encoding. A definite must download!
Washington, DC (PRWEB) August 20, 2014
The " PQChat" app was featured on NewsWatch as part of its monthly AppWatch, which takes a look at the latest and coolest apps on the iOS, Android, and Windows markets. Andrew Tropeano, a host of NewsWatch and a mobile technology expert, conducted the app review and shared with viewers how it encryptes text messages for privacy.
Quantum computers are the technology of the future. Consumers may not know what they look like or how they work, but it's important to know they'll be so advanced that they'll be able to break nearly any current encryption technique used to protect personal data.
To keep sensitive information private, consumers need a post-quantum encryption technology. For text messaging, NewsWatch recommends PQ Chat. It's the world's first post-quantum messenger that uses "never the same" technology, but still has a positive user interface and texting experience.
For texting, only a user's friends and approved contacts can send messages. When a user sends a message, the app encodes it. If a user sends an identical message twice, the code will never be the same.
PQChat has all the normal texting functions, plus a new additions. NewsWatch highlighted the countdown to expire, which allows users to set an expiration date on a text, and the remote recall function, which allows users to recall a message.
To download it for free on an iOS device, visit http://www.pq-chat.com or search "PQ Chat" in the appstore today.
About NewsWatch
NewsWatch is a weekly 30-minute consumer oriented television show that airs on the History Channel, FYI Network, and ION Network. NewsWatch regularly features top technology products and services, mobile applications for iOS, Android, and Windows devices, unique and beautiful travel destinations around the world, health and medical tips, and entertainment interviews on the show. NewsWatch airs on the History Channel at 6:00 – 6:30 AM ET/PT and on the FYI Network from 7:00 – 7:30 AM ET.
NewsWatch is located in the greater Washington, DC area and has been on air for over 25 years. For more information or to watch the most recent episode, visit http://newswatchtv.com.