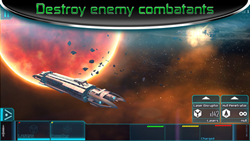 Honor Harrington, Tales of Honor: The Secret Fleet is an incredibly complex and fun game. It'll keep you entertained for hours!
Washington, DC (PRWEB) September 09, 2014
"Tales of Honor: The Secret Fleet" was featured on NewsWatch as part of its monthly AppWatch, which takes a look at the latest and coolest apps on the iOS, Android, and Windows markets. Andrew Tropeano, a host of NewsWatch and a mobile technology expert, conducted the app review and shared with viewers how it's the latest installment of the Honor Harrington universe.
The Honor Harrington series just released their newest edition to the multi-platform experience, a mobile game for iOS and Android devices called Tales of Honor: The Secret Fleet. The Honor Harrington universe is a military science fiction series written by David Weber that takes place in the distant future. It follows Honor Harrington, a young officer in the space navy, as she deals with extreme intergalactic tensions and evil powers. It's an interesting series that echoes history.
The series started as a New York Times best-selling novel, but has since moved into comic books, and a full graphic novel that's set to be released in October. The latest platform is their new mobile game. The game is free for iOS and Android devices and gamers play themselves, lead by Honor Harrington through space battles. Players have to manage their ship and weapons, while hunting down enemies bent on destruction. It's a great game that's challenging and fun to play.
To download it, head to the appstore and search "Tales of Honor: The Secret Fleet" or visit https://itunes.apple.com/us/app/tales-honor-secret-fleet/id852502371?mt=8
About NewsWatch
NewsWatch is a weekly 30-minute consumer oriented television show that airs on the History Channel, FYI Network, and ION Network. NewsWatch regularly features top technology products and services, mobile applications for iOS, Android, and Windows devices, unique and beautiful travel destinations around the world, health and medical tips, and entertainment interviews on the show. NewsWatch airs on the History Channel at 6:00 – 6:30 AM ET/PT and on the FYI Network from 7:00 – 7:30 AM ET.
NewsWatch is located in the greater Washington, DC area and has been on air for over 25 years. For more information or to watch the most recent episode, visit http://newswatchtv.com.