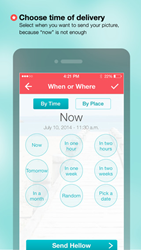 Hellow! is a fun app for anyone who wants to have some fun with their photos! A must download!
(PRWEB) September 10, 2014
"Hellow!" was featured on NewsWatch as part of its monthly AppWatch, which takes a look at the latest and coolest apps on the iOS, Android, and Windows markets. Andrew Tropeano, a host of NewsWatch and a mobile technology expert, conducted the app review and shared with viewers how it lets users share and unlock photos according to a time or place.
According to Pew Internet, there are over 1.4 billion smartphones in use around the world. Everyday, users take and share millions of photos with them. But sometimes a photo doesn't need to be shared at that exact moment. A new app just came out that users should know about called "Hellow!".
"Hellow!" lets users share and unlock photos according to time or place. For example, if someone is at an amazing party and they take a photo that tells the nights story, "Hellow!" knows that "immediately" shouldn't be the only option. With the app, they take the photo, and send it to a chosen time or until your friends arrive at a chosen destination. While the app holds the photo, it lets the user's friends know when or where the photo is available to be viewed. Once it's viewable, everyone can talk about it on the spot with the group chat feature. Everyone tagged in the photo can like, comment, and save it.
"Hellow!" is a fun and unique twist on how consumers take and share photos. The app is available for iOS devices and will have an Android version coming soon.
To give it a try, head to the iTunes store and search "Hellow!" today or visit https://itunes.apple.com/us/app/hellow!/id898448155?mt=8.
About NewsWatch
NewsWatch is a weekly 30-minute consumer oriented television show that airs on the History Channel, FYI Network, and ION Network. NewsWatch regularly features top technology products and services, mobile applications for iOS, Android, and Windows devices, unique and beautiful travel destinations around the world, health and medical tips, and entertainment interviews on the show. NewsWatch airs on the History Channel at 6:00 – 6:30 AM ET/PT and on the FYI Network from 7:00 – 7:30 AM ET.
NewsWatch is located in the greater Washington, DC area and has been on air for over 25 years. For more information or to watch the most recent episode, visit http://newswatchtv.com.