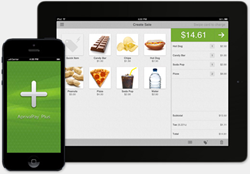 Washington, DC (PRWEB) April 15, 2014
"AprivaPay plus" a mobile payment solution was featured on NewsWatch as part of its popular segment, AppWatch, that takes a look at the latest and coolest mobile applications and services on the iOS, Android, and Windows market. Andrew Tropeano, the host of AppWatch, conducted the review and shared with viewers how it provides merchants and owners of small businesses the ability to offer credit card payments from their mobile phone.
According to US Small Businesses Administration, there are over 23 million small businesses across the United States, and those businesses account for 54% of all sales in the country. In today's mobile world, most businesses need to accept credit cards these days. Unfortunately a credit card machine is expensive to purchase. Mobile payment applications for android and ios devices have become popular among small and medium sized businesses.
AprivaPay Plus is a mobile payment software used by businesses across the country to provide customers and consumers a credit card option for purchasing goods and services. Apriva's technology is used by US and international governments for transmitting classified information and because they have a background in secure mobile connections, their network is secure.
Apriva is currently used by three of the top five banks in the US and one of the leading wireless carriers. For a small business owner or a consumer that's seen an increase in mobile payment options, keep an eye out for AprivaPay Plus.
To learn more, visit http://www.aprivapayplus.com.
About NewsWatch
NewsWatch is a weekly 30-minute consumer oriented television show that airs monthly on the History Channel and weekly on the ION Network. NewsWatch regularly features top technology products, unique and beautiful travel destinations, health tips, medical breakthroughs, and entertainment news on the show. A recent addition to NewsWatch, AppWatch is a weekly segment that provides viewers app reviews and game reviews of the latest and hottest apps and games out on the market for iOS and Android devices.
The show airs in 180 markets nationwide as well as all of the top 20 broadcast markets in the country, and is the preferred choice for Satellite Media Tour and Video News Release Distribution.
For more information or to catch other AppWatch stories, visit http://www.newswatchtv.com/appwatch.html.