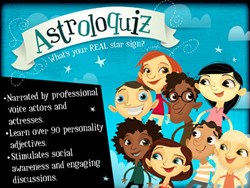 Astroloquiz is a fun iPad app that helps children learn English fast!
Washington, DC (PRWEB) December 28, 2013
"Astroloquiz", a language education app was featured on NewsWatch as part of its popular segment, AppWatch, that takes a look at the latest and coolest mobile applications and services on the iOS, Android, and Windows market. Andrew Tropeano, host of AppWatch, conducted the app review and shared with viewers how the app teaches children English through a combination of astrology, adjectives, and games.
With over 360 million native speakers and another 380 million people learning it as their second language, English is one of the most spoken languages on the planet. But for many people, the English language is challenging to grasp.
Astroloquiz is an iPad app that uses a combination of astrology, adjectives, and games to teach English. It's a fun app that helps children not only learn the language but also become more self-aware of their personality through situational quizzes. The quizzes determine a child's personality type and then aligns them with an astrology sign, all the while teaching dozens of adjectives that increase their English vocabulary.
To make Astroloquiz fun, the voiceovers of the app are all done by famous actors and actresses. The developer of the application is also an English teacher with 15 years experience.
To help a child learn English and have fun while doing it, download Astroloquiz at the iTunes store.
About NewsWatch
NewsWatch is a weekly 30-minute consumer oriented television show that airs monthly on the History Channel and weekly on the ION Network. NewsWatch regularly features top technology products, unique and beautiful travel destinations, health tips, medical breakthroughs, and entertainment news on the show. A recent addition to NewsWatch, AppWatch is a weekly segment that provides viewers app reviews and game reviews of the latest and hottest apps and games out on the market for iOS and Android devices.
The show airs in 180 markets nationwide as well as all of the top 20 broadcast markets in the country, and is the preferred choice for Satellite Media Tour and Video News Release Distribution.
For more information or to watch the latest app reviews featured on the show, head to http://www.NewsWatchTV.com/appwatch.html.