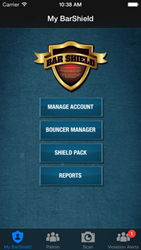 Bar Shield makes bars inherently safer. A great tool for any bar owner!
Washington, DC (PRWEB) May 24, 2014
"Bar Shield", a mobile application and software for bars was featured on NewsWatch as part of its popular segment, AppWatch, that takes a look at the latest and coolest mobile applications and services on the iOS, Android, and Windows market. Andrew Tropeano, the host of AppWatch, conducted the review and shared with viewers how it's used by bar owners to protect their establishment from unruly patrons.
Owning a bar or nightclub anywhere in the country is hard work. The closer the bar is to a city or college town, the bigger the headaches become. Owners have tools at their disposal to make sure their patrons aren't under age, but they don't have insight into who the patron is or what they've been up to that night.
Bar Shield is an application that was created in Madison Wisconsin by a bar owner. It removes the anonymity of someone entering a bar by connecting through the cloud to every Bar Shield enabled bar to see that person's bar record, and if they have caused any issues or been kicked out that evening or previous evenings. The app gives a bouncer access to historical entries on that patron, which pop up when they scan their ID.
If a bar kicks someone out of their establishment, they can enter information on the incident so other Bar Shield bars can determine whether to admit that person as well. Customer entries are available in real time to every bar and nightclub.
Bar Shield makes bars safer, their patrons safer, and the liability to owners less.
To learn more, visit http://www.barshieldapp.com.
About NewsWatch
NewsWatch is a weekly 30-minute consumer oriented television show that airs monthly on the History Channel and Biography Channel, and weekly on the ION Network. NewsWatch regularly features top technology products, unique and beautiful travel destinations, health tips, medical breakthroughs, and entertainment news on the show. A recent addition to NewsWatch, AppWatch is a weekly segment that provides viewers app reviews and game reviews of the latest and hottest apps and games out on the market for iOS and Android devices.
The show airs in 180 markets nationwide as well as all of the top 20 broadcast markets in the country, and is the preferred choice for Satellite Media Tour and Video News Release Distribution.
For more information or to watch the latest app reviews featured on the show, head to http://www.NewsWatchTV.com/appwatch.html.