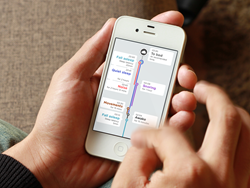 The knowledge we received from the Beddit app was incredibly helpful and insightful. There's nothing else like it on the market.
Washington, DC (PRWEB) August 21, 2013
"Beddit" was featured on NewsWatch as part of its popular segment, AppWatch, that takes a look at the latest and coolest mobile applications and mobile services on the market. Andrew Tropeano, host of AppWatch, shared with viewers how the app and product can help improve sleep.
According to the National Institutes of Health, 50 to 70 million Americans are affected by chronic sleep disorders and sleep problems that can significantly diminish their health, alertness and safety.
Beddit is a product and app that tracks sleeping patterns, heart rate, breathing, and environment to determine sleep quality and how to improve it. The product is an ultra-thin sensor that is placed under the sheet or mattress pad. It monitors movement, light, and noise, and then transmits the information to the Beddit app on a smartphone to be analyzed for sleep irregularities and potential causes. Using a scientific method called ballistocardiography, the movements caused by heart beating and breathing are also analyzed. The user is then given a score for the night and receives personalized coaching tips on how to improve it.
While sleeping, the app can also determine when the correct amount of sleep for proper recovery has occuerd and whether the user is in a light sleeping period-which has been shown to be the best time to wake up. When they've reached that point, the Beddit app will trigger an alarm to wake then up.
The biggest difference between Beddit and other sleep monitors on the market is it doesn't just tell users the quality of your sleep, but actually identifies the catalysts that may be detrimental to their sleep quality, whether that be lack of exercise, alcohol intake, food, or just too much light, and then provides solutions and tips.
To learn more or to get a monitor for your home, go to http://igg.me/at/beddit-sleep-tracker
NewsWatch is a weekly 30-minute consumer oriented television show that airs monthly on the History Channel and weekly on the ION Network. NewsWatch regularly features top technology products, unique and beautiful travel destinations, health tips, medical breakthroughs, and entertainment news on the show. A recent addition to NewsWatch, AppWatch is a weekly segment that provides viewers app reviews and game reviews of the latest and hottest apps and games out on the market for iOS and Android devices.
The show airs in 180 markets nationwide as well as all of the top 20 broadcast markets in the country, and is the preferred choice for Satellite Media Tour and Video News Release Distribution.
For more information or to watch the latest app reviews featured on the show, head to http://www.NewsWatchTV.com/appwatch.html