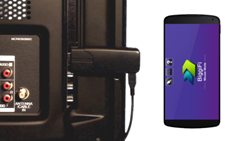 "It was my first ever contribution to any crowd funding project, that must tell you how skeptic I am...Biggifi is one of those products that I have seen, identified in a few seconds that it's going to be a hero."
Washington, DC (PRWEB) December 31, 2013
"BiggiFi", an HDMI device running Android that turns a television into a smartphone, was featured on NewsWatch as part of its popular segment, Tech Report, that takes a look at the latest and coolest technology products and services on the market available to consumers. Andrew Tropeano conducted the tech review and shared with viewers how BiggiFi allows consumers to connect their smartphone wirelessly to their television and run millions of apps.
A 52 inch flat screen HD TV cost thousands of dollars and has less computing capabilities than a 5 inch smart phone that runs at a quarter of the price. What if consumers could combine the two and have a big screen that basically works like a smartphone? Well that's what BiggiFi offers when plugged into a television.
BiggiFi is an HDMI device running Android that connects wirelessly to smartphones so users can run millions of apps on their television. Once it's plugged in, they can treat their phone like a controller where they can touch, pinch, slide, and even tilt the phone to control apps. BiggiFi lets users play games, watch films, or do anything on their television that they'd do on their phone. It's a great but simple way to turn that 5 inch phone into a gigantic big screen.
BiggiFi is backed by people from 15 different countries through indigogo, a crowd sourcing site and have already received massive positive responses from their fans.
To learn more about BiggiFi or to purchase one, visit http://www.biggifi.com.
About NewsWatch
NewsWatch is a weekly 30-minute consumer oriented television show that airs monthly on the History Channel and weekly on the ION Network. NewsWatch regularly features top technology products, unique and beautiful travel destinations, health tips, medical breakthroughs, and entertainment news on the show. A recent addition to NewsWatch, Tech Report is a weekly segment that provides viewers technology reviews of the latest and hottest products and services out on the market for consumers.
The show airs in 180 markets nationwide as well as all of the top 20 broadcast markets in the country, and is the preferred choice for Satellite Media Tour and Video News Release Distribution.
For more information or to watch the latest app reviews featured on the show, head to http://www.NewsWatchTV.com/tech-report.html.