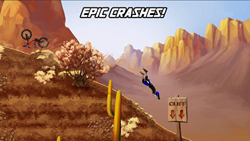 Washington, DC (PRWEB) May 02, 2014
"Bike Mayhem," a downhill racing game, was featured on NewsWatch as part of its popular segment, AppWatch, that takes a look at the latest and coolest mobile applications and services on the iOS, Android, and Windows market. Andrew Tropeano, the host of AppWatch, conducted the app review and shared with viewers how it's one of the more epic games on the market.
Bike Mayhem is a game with style, tricks, and high-quality graphics and is an epic downhill racing game. Players race through over a hundred different trails across 19 mountains for the best time, hitting huge jumps and pulling off trick combos for the best score. Players can hop, flip, and use the trick wheel to combo eight different tricks. Some tricks are longer than others and more complicated, but those give the most points.
Fortunately, when a player crashes, the wipe outs are hilarious and almost as fun as the tricks. Players can flick the rider as he's falling for hilarious carnage. The graphics are fantastic and it's obvious the developers put effort into getting the animation and physics correct.
The bigger the trick combo, the more points. For example, linking a wheelie, backflip, superman, and landing in a wheelie will get players huge amount of points… as long as you ride out. Each bike has different strengths, so pick the right bike for the trail.
There's a free version and a paid version available for iOS and Android Devices. Head to the App Store and search "Bike Mayhem Mountain Racing" to get playing or visit https://itunes.apple.com/us/app/bike-mayhem-mountain-racing/id783948581?mt=8.
About NewsWatch
NewsWatch is a weekly 30-minute consumer oriented television show that airs monthly on the History Channel and Biography Channel, and weekly on the ION Network. NewsWatch regularly features top technology products, unique and beautiful travel destinations, health tips, medical breakthroughs, and entertainment news on the show. A recent addition to NewsWatch, AppWatch is a weekly segment that provides viewers app reviews and game reviews of the latest and hottest apps and games out on the market for iOS and Android devices.
The show airs in 180 markets nationwide as well as all of the top 20 broadcast markets in the country, and is the preferred choice for Satellite Media Tour and Video News Release Distribution.
For more information or to watch the latest app reviews featured on the show, head to http://www.NewsWatchTV.com/appwatch.html.