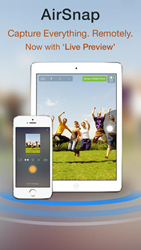 Camera Plus has Airsnap, a feature is unique to iOS camera apps. Definitely worth the download!
Washington, DC (PRWEB) June 13, 2014
The "Camera Plus" mobile camera app was featured on NewsWatch as part of its monthly AppWatch, which takes a look at the latest and coolest mobile applications on the iOS, Android, and Windows market. Andrew Tropeano, a host of NewsWatch and mobile technology expert, conducted the app review and shared with viewers how it gives users more control over their phone's camera than ever before.
Millions of people use their phone as their primary camera. Any smartphone owner should spend a few minutes to find an app that will help take the quality of photos they expect and want.
NewsWatch's latest recommendation is Global Delight's Camera Plus, available for both the iPhone, iPad and iPad mini. It has 3 different focus modes, one for up close macro shots, another for normal shots, and one for long distance.
It also has an intelligent automatic exposure and some great edit and filter options.
The app also has a feature called 'Airsnap' that lets users use one iPhone or iPad as a remote control for another. So users can position one device somewhere, step into the shot, press the capture button on a second device, and take a photo without having to worry about a countdown or asking a stranger. Once the photo is taken, users can look at it on the other device to see if it's good or if they need a retake.
The app is available for only $0.99. To download, visit iTunes store and search "Camera Plus by Global Delight" today.
Visit https://itunes.apple.com/us/app/camera-plus-capture-remotely/id330803072?mt=8.
About NewsWatch
NewsWatch is a weekly 30-minute consumer oriented television show that airs monthly on the History Channel, Bio Channel, and ION Network. NewsWatch regularly features top technology products, unique and beautiful travel destinations, health tips, medical breakthroughs, and entertainment news on the show. A recent addition to NewsWatch, AppWatch is a weekly segment that provides viewers app reviews and game reviews of the latest and hottest apps and games out on the market for iOS and Android devices. The show airs in 180 markets nationwide as well as all of the top 20 broadcast markets in the country, and is the preferred choice for Satellite Media Tour and Video News Release Distribution. For more information or to catch all the segments from the May show, visit http://newswatchtv.com.
NewsWatch airs monthly on the History Channel at 6:00 – 6:30 AM ET/PT and on the Bio Channel from 7:00 – 7:30 AM ET.